Long Island City's Renaissance
---
---
Miami native Rick Rosa stuffed a few bags with his belongings in 1999 and headed for New York City.
Though not the postcard image he envisioned, he stumbled upon the industrial waterfront neighborhood of Long Island City, where he found an affordable pad, close to Manhattan, with a yard for his dog, Benny.
"The neighborhood was very raw when I came here," recalled Mr. Rosa, now an executive vice president at Douglas Elliman. "It all happened by accident. I just needed space for my basset hound."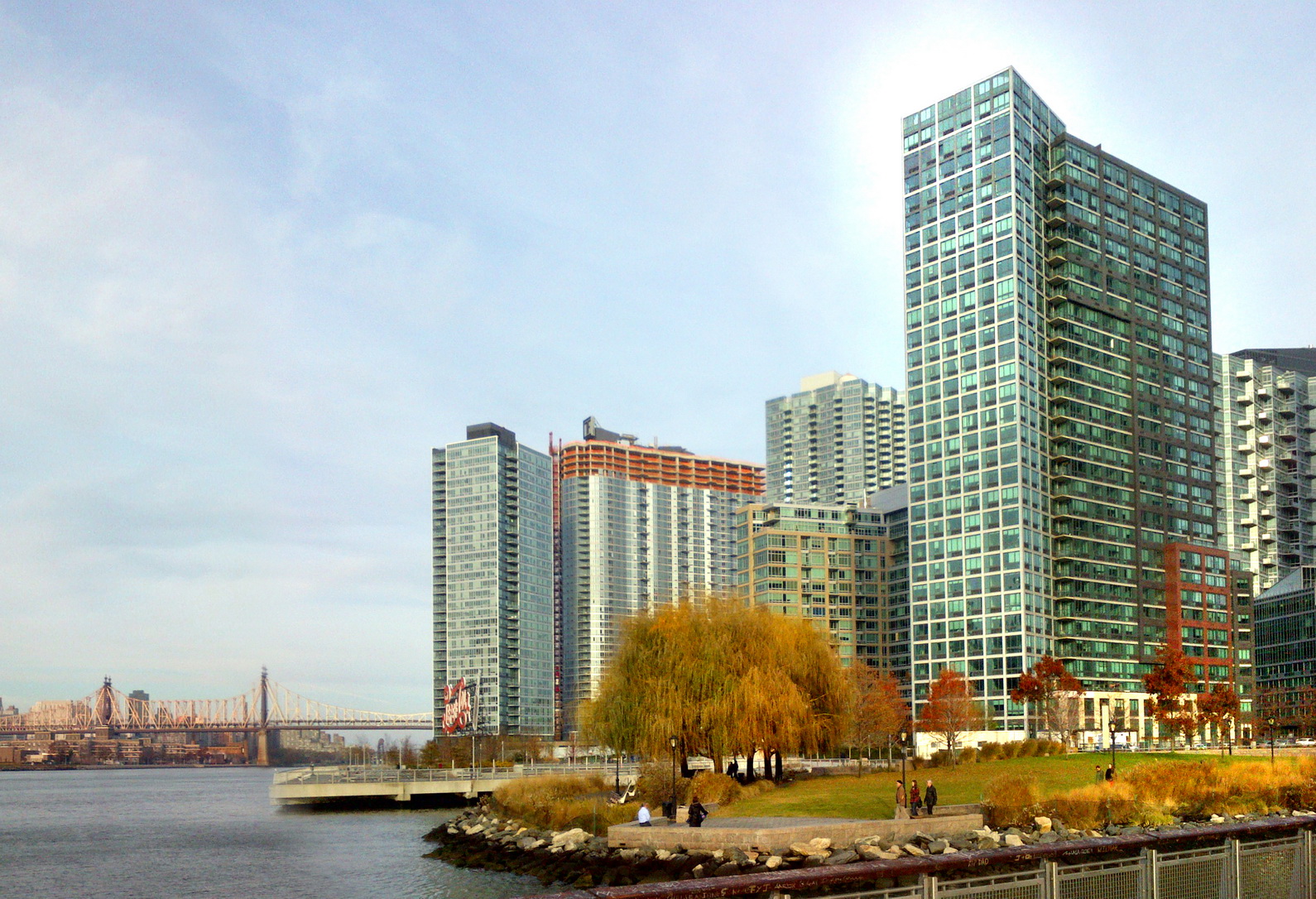 Mr. Rosa moved to the city looking for a change, but Long Island City would change more than he could have imagined. He now works out of Douglas Elliman's new Elliman LIC office on Vernon Boulevard, as the firm, like many others, tries to capitalize on the neighborhood's explosive growth.
"I've been whispering in Douglas Elliman's ear about Long Island City for a long time," he said. "The growth has been amazing."
The neighborhood's dramatic makeover from an industrial wasteland to a residential destination and viable alternative to Manhattan was paved by a 2001 residential rezoning that led a few pioneers, including real estate developer Rockrose, to prop up multiple residential towers along Long Island City's waterfront, which until then had been a largely untapped market.
But the "cat is out of the bag," developers said, and now residential development has pushed in from the waterfront, toward the Court Square, Queens Plaza and surrounding areas, where several new residential towers are in the works.
Retail and commercial development makes a valiant effort to keep pace, with a number of cultural institutions creating a home base for artists and an office population held together by neighborhood staples like Citigroup (C) and JetBlue keeping businesses afloat, as young people and families priced out of Manhattan give the neighborhood a closer look.
"The transformation that folks were speculating about 20 years ago has tangibly taken hold, making Long Island City a dynamic and exciting neighborhood which is as close to being an adjunct of Manhattan as possible," said Massey Knakal Chairman Bob Knakal, who has sold dozens of properties and residential development sites in the area.
The scope of the development that the Bloomberg administration is now pushing in the area is nearly unprecedented, breaking ground last week on the first phase of Hunter's Point South, a mixed-use waterfront development that will include 5,000 residential units, 11 acres of parkland and a 1,100-desk school. The project is set to become the largest residential development initiative by the city since Co-op City was built in the Bronx four decades ago.
Related Companies, partnered with Phipps Houses, Monadnock Construction and SHoP Architects, is building the first two towers at the seven-tower complex, which will be 37 and 32 stories high, making up a combined 925 units geared toward "middle-income" residents.
"The neighborhood is only getting better and better and we wanted to get in on that," said Frank Monterisi, a vice president at Related Companies. "Long Island City has become very popular with young families, so there's a real need for this."
The development of Long Island City, however, was spearheaded over a decade ago by Rockrose, a development company that had the foresight to invest in residential development along Long Island City's waterfront.
Rockrose purchased a 40-acre site along the waterfront from Pepsi (hence the iconic sign, which remained as part of the deal) in 2003, beginning its massive erection of the soaring glass and concrete towers that are now synonymous with Long Island City's waterfront.
"They are the reason why Long Island City is where it's at," Mr. Rosa said. "They took a piece of real estate that was very unattractive and turned it into what it is now. It's night and day."
(click below for page 2)
2 Court Square
,
43-25 Hunter Street
,
Bob Knakal
,
Brooks 1890
,
Burger Garage
,
Corner Bistro
,
Court Square
,
Crank Studio
,
CUNY Law School
,
Dominie's Hoek
,
Douglas Elliman
,
Dutch Kills
,
Eagle Loft
,
Elliman LIC
,
Emily Salon & Spa
,
Frank Monterisi
,
Gary Kesner
,
H&R
,
jetblue
,
Justin Elghanayan
,
Long Island City
,
Manducatis
,
Moma PS1
,
Monadnock Construction
,
noel caban
,
One Court Square
,
Pepsi
,
Phipps Houses
,
Pooches Sport & Spa
,
publicis
,
Queens Plaza
,
Rick Rosa
,
Rockrose Development
,
Sage General Store
,
SculptureCenter
,
Shi
,
SHoP Architects
,
silvercup studios
,
Skinny's Cantina
,
Socrates Sculpture Park
,
The Industry
,
The Noguchi Museum
,
Tom Elghanayan
,
United Nations Federal Credit Union
,
winick realty
,
Citigroup
,
Massey Knakal Realty Services
,
TF Cornerstone
,
Tishman Speyer