Cornered: So Far No Takers for 150,000-Square-Foot Retail at 23 Wall, But Repositioning in the Works
---
---
A onetime citadel of finance is proving to be a complicated sell.
The former J.P. Morgan headquarters at 23 Wall Street has been without a tenant for about seven years. And ambitious plans to woo a large retailer are being reconsidered.
Built in 1914, 23 Wall Street—also known as The Corner—has had a dramatic and occasionally fraught history. It was bombed in 1920, possibly by an Italian anarchist. The blast killed 38 people. The New York Stock Exchange is across the street, but despite the foot traffic its location generates, the property's fortified address is a major reason why retailers—and large department stores in particular—have been reluctant to move in.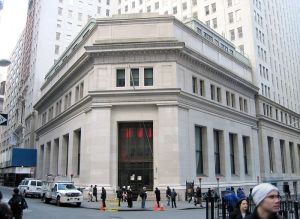 "We're challenged only because of the deliveries," said Joanne Podell, an executive vice president in Cushman & Wakefield's brokerage division who since 2011 has marketed 150,000 square feet of retail space spread between 23 Wall Street, 35 Wall Street and 15 Broad Street.
"We've had a lot of interest from department stores," she added. "But because of the limitations to getting trucks in and out and maintaining enough sales volume, it's going to be tough."
Brooks Brothers showed interest in 35 Wall Street, but the deal stalled in its final stages last summer. "We don't think [Brooks Brothers] is going to happen," Ms. Podell said. "At the end of the day, I don't think the floorplate worked." Rumors also swirled about an Apple Store lease. "Apple did eye the space in the past, but I don't see them opening there."
Ms. Podell said other apparel tenants remain interested, but she also acknowledged that the assignment has shifted away from its strict focus on retail. "I think the buildings would be great for entertainment uses," she said. "There's also potential for institutional use, meaning financial services."
The Financial District can pose unique challenges to retailers. Despite an ongoing population boom in the area—there are nearly 60,000 lower Manhattan residents today, up from 22,904 before the September 11 attacks—the fortunes of retailers are tethered to those of financial firms and their employees. Tenants like Tiffany & Co. (at 37 Wall Street) and Hermès (at 15 Broad Street) were reportedly skittish about the area following the 2008 market crash. And Tiffany reported weak spending by American customers earlier this year, a decline Business Insider attributed to reduced Wall Street bonuses.
Still, Ms. Podell said she "can't find space for [her] retail clients" because of the demand in the area. "There just isn't anything available," she said. "I'm looking forward to Brookfield Place and the retail at 1 World Trade Center opening."
The Corner should be able to contend with those marquee developments. "It has a very nice central lobby and an incredible portion with soaring ceilings and no columns that's about 10,000 square feet," Ms. Podell said. She estimated that that particular space in 23 Wall Street would fetch higher rents than the $350 to $400 per square foot found elsewhere in the property.
A surge in the local population combined with a recovering economy and the perennial stampede of tourists in the area should lead to a deal soon. "I've always been a proponent of Downtown," Ms. Podell said. "I really believe in it. And if there was more retail space to lease, we would lease it."