Coney Island's Roller Coaster Ride: As Brooklyn's Amusement Mecca Opens, Operator Zamperla SPA Takes Stock
---
---
With three days to go until the traditional Palm Sunday opening of Luna Park at Coney Island, the temperature was just above freezing.
Alberto Zamperla, 60, president and chief executive of the Italian amusement park operator and ride provider Zamperla SPA, steered The Commercial Observer into the company's warm, modest offices across from the landmark Cyclone roller coaster.
A central hallway was lined with newspaper clippings that recount the area's history as a summer retreat and amusement park destination.
"Coney Island, that marvelous city of lath and burlap, should always be approached by the sea, as then, and then only, can the beauty of this ephemeral Venice be appreciated," began an article published on August 15, 1908, in Scientific American. "Landward, the trains run through squalid neighborhoods, and past the back of everything. Its best foot is put forward toward the sea."
Coney Island peaked before cars and planes allowed New Yorkers to easily escape the city heat far outside the five boroughs. Its decay during the second half of the 20th century is as mythic as its halcyon days. Its boardwalk and amusement area rivaled the squalor of surrounding neighborhoods. The seaside was, to put it kindly, down at the heels.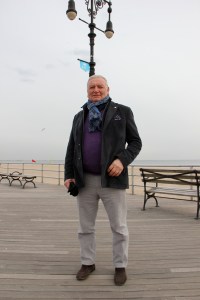 Efforts to revive the faded Coney Island accelerated a decade or so ago and culminated in April 2010, when the city chose Central Amusement International, of which Zamperla is the majority shareholder, to operate the 6.2 acres of land it owned between Surf Avenue and the Atlantic Ocean. Mr. Zamperla, surveying the landscape three years later, was pleased.
"We've really turned around Coney Island," the jovial Mr. Zamperla said in his refined Italian accent. "We are saving Coney Island. And we are preserving Coney Island. But we've renewed it. That is the most important element."
Luna Park opened in 2010, replacing Astroland, which closed following the 2008 season after 46 years as Coney Island's decidedly unglamorous amusement nerve center. (The area's pre-eminent rides, The Cyclone and Deno's Wonder Wheel, operated separately from Astroland; Luna Park took over the wooden coaster in 2011. The Wonder Wheel is still independent.) It was named after Coney Island's second theme district, which operated from 1903 through 1944.
C.A.I's attempts to duplicate the original Luna Park's majesty and cleanliness, however well-intentioned, stoked fears in many Coney Island loyalists that the park's gritty charms would be replaced by a sterile Disneyland Brooklyn. Their anxiety erupted in 2006, when the developer Thor Equities bought 10 acres of neighborhood property—including Astroland—and proposed the construction of a gleaming new park, hotel and even time-share units. (Mr. Zamperla said he has no professional relationship with Thor or its founder and chief executive, Joe Sitt.)
To the measured relief of those partial to Coney Island's timeworn funkiness, the city in 2009 paid $95.6 million for 6.9 acres of Thor's parcel. Still, change was clearly afoot, and each new ride and boardwalk business eviction continues to be closely analyzed.
Mr. Zamperla understands this trepidation, but does not kowtow to it. "I'm working on amusement projects in Baghdad," he said. "Do you think I'm afraid to do work here? This company works all over the world—Russia, China, Arab countries—and we always respect the people. It would be stupid for me to work against them. We try to understand the local feelings and culture, and just use our knowledge to make things safer and bring the best rides and innovations. We know how to do our job."
Indeed, this is the only job Mr. Zamperla has ever known. He said his family has been in the amusement ride business since the mid-1800s, which coincides with Coney Island's birth as a summertime escape. The company had provided rides to Astroland since its launch in 1962 and, he said, currently delivers more rides to Disney than any of its rivals. And while Zamperla's rides appear in theme parks around the world, conformity is not the goal.
"I love Coney Island," said Mr. Zamperla, who has owned a home in the city for 10 years. "And I love New York. I respect the philosophy and mentality here. I consider New York my home. I prefer it here."
Laughing, he asked, "Are you aware of all the problems we have in Italy?"
Still, Mr. Zamperla's reverence for the park and his adopted city's history is not all-encompassing. Of particular concern to Coney Island purists—or at least those nostalgic for The Warriors-vintage Coney Island—is the boardwalk and the businesses lining it.
Alberto Zamperla
,
Beer Island
,
Central Amuseument International
,
Cha Cha's
,
Coney Island
,
Cyclone
,
Joe Sitt
,
Luna Park
,
Ruby's
,
Shoot the Freak
,
Thor Equities