Brooklyn Chamber of Commerce Relocates Headquarters
---
---
The Brooklyn Chamber of Commerce has signed a 10-year lease for 4,426 square feet at Muss Development's Brooklyn Renaissance Plaza at 335 Adams Street in Downtown Brooklyn, it was announced last week. Asking rent was $40 per square foot.
"They were looking for an overall upgrade," Jason Muss, principal at Muss Development, told The Commercial Observer. "They wanted to send the message that the Chamber is thriving and attracting new members."
The Chamber of Commerce is expected to occupy the new space sometime in the second quarter. New offices will be added to the space, but there will be few other changes, according to Mr. Muss.
Currently, the Chamber of Commerce is located at 25 Elm Place, also in Downtown Brooklyn.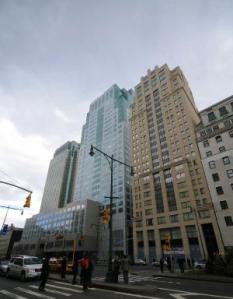 The Brooklyn Chamber of Commerce is an organization which supports and advocates for its member businesses, aiming to provide a healthy and robust business environment in the borough, according to their website. The location of the new headquarters is convenient to the municipal heart of Brooklyn, Mr. Muss noted. "It is the traditional seat of power and it makes perfect sense for them to be there," he said.
Downtown Brooklyn offers convenient access to transportation and with thousands of new apartments being built the neighborhood is one of the most up and coming in New York, Mr. Muss argued. Muss Development's 700-room Brooklyn Marriott is located adjacent to the Chamber of Commerce's new home.
With the signing of the lease, the building at 335 Adams Street is now completely occupied. Other tenants in the building include the executive offices of the Kings County District Attorney, Municipal Credit Union, Motorola, MetLife and others.
Stan Markowitz of Muss represented the landlord in the transaction. The Brooklyn Chamber of Commerce was represented by an in-house broker.