$1.1 B. Sony Deal Etched in Stone
---
---
City records confirm Joe Chetrit and David Bistricer's $1.1 billion closing on the Sony Building, the deal that thrust Mr. Bistricer into the spotlight as his media shy partner continued his buying rampage.
The duo plans to turn the tower into residential condominiums and a hotel, and to retrofit the retail space; and they recently went into contract to purchase the 1.5-acre former Cabrini Medical Center site at Second Avenue and East 19th Street.
The Sony Building purchase pitted Mr. Bistricer and Mr. Chetrit against industry heavyweights like Joseph Sitt and Harry Macklowe, winning a competitive bid by slapping down a jaw-dropping $600 million letter of credit to seal the deal.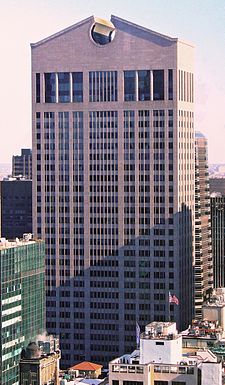 In addition to the undertaking at the Sony Building, Mr. Bistricer and Mr. Chetrit plan to transform the Bossert Hotel in Brooklyn Heights into a boutique luxury hotel with about 300 rooms, after paying the $81 million for it last year.
That project got the go-ahead for the hotel conversion earlier this year, when the Board of Standards & Appeals approved their request for a variance to change the Certificate of Occupancy for hotel use.
The duo also picked up a development parcel at 77 Commercial Street in Williamsburg, which can accommodate 270,000 square feet of development, for $25 million.  The developers will raze the existing commercial structure there and replace it with a residential building, Mr. Bistricer told The Commercial Observer last month.
A recent New York Times article speculates that the Sony deal is "fraught with risk," citing sources who said it could take up to two years and $500 million to completely renovate the building and that "interest rates can soar and the market for expensive condos can dry up before the building reopens in 2019."