Group Grades The Moinian Group With a Big Fat "F"
---
---
Things could get rowdy when a consortium of elected officials including City Council Speaker Christine Quinn rallies near City Hall this afternoon to issue a report card to Joe Moinian's The Moinian Group for alleged failings as a real estate developer and landlord.
The report card grades the developer – with letter grade "F" across the board – on tenant relations, safety, financial stability, vendor relations and the creation of good jobs.
"It's going to be rowdy – we're expecting hundreds of people," said Jessica Ramos, a spokesperson for Build Up NYC, one of the groups spearheading the effort.  "We want to create public support and awareness for them to be a responsible developer and build buildings with good jobs that actually help the economy."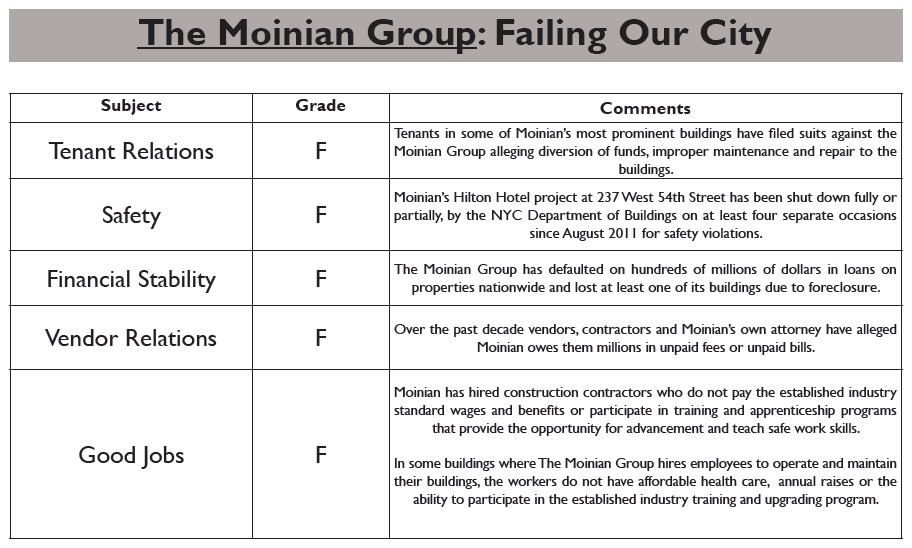 Ms. Ramos claims that The Moinian Group cuts corners on safety, evades good job standards and pays low wages, and even provides its workers with fake Occupational Safety and Health Administration work permits, among other shady business dealings.
Workers across the construction, building operations and maintenance sectors will join elected officials at the event, which in addition to Gary LaBarbera, president of Build Up NYC, and Speaker Quinn, will include Shirley Aldebol, vice president of 32BJ SEIU; New York City Comptroller John Liu; Manhattan Borough President Scott Stringer; and State Senator Dan Squadron.
The Moinian Group, which owns 20 million square feet of office, retail, hotel and residential property in the United States, holds a heavy concentration of assets in lower Manhattan, which was thrashed by Hurricane Sandy.
The embattled real estate company, which operates 90 John Street, 100 John Street, 90 Washington, 123 Washington Street, 1 West Street, 17 Battery South and 17 Battery North, received a swarm of criticism for its handling of its buildings and failing to bring buildings back online swiftly.
"We have the utmost respect and concern for our tenants, and we are dedicated to their safety, comfort and efficiency," Mr. Moinian wrote in a press release responding to criticism and published in Real Estate Weekly after the storm.
"What a joke," responded one commenter.  "1 West Street has been without power for exactly one month today. The generic emails sent once a day promise 'round the clock' work yet used generators were only just received yesterday. Per usual, the promise to move us back home today was pushed back a few more days."
"This made my blood boil," added another.  "I am currently a resident of 90 Washington Street, and it's now been 13 days since I've been able to live in my home."
The Moinian Group did not return calls seeking comment in time for publication.
1 West Street
,
100 John Street
,
123 Washington Street
,
17 Battery North
,
17 Battery South
,
32BJ SEIU
,
90 john street
,
90 Washington
,
Build Up NYC
,
Christine Quinn
,
Daniel Squadron
,
Gary LaBarbera
,
Jessica Ramos
,
Joe Moinian
,
John Liu
,
Occupational Safety and Health Administration
,
Scott Stringer
,
Shirley Aldebol
,
The Moinian Group