For First Time in Recent History, Class B Availability Lower Than Class A
---
---
A flight to value is occurring in the Manhattan office market as Class B office product remains in high demand.
At 10.6 percent, the current availability rate for Class B space is 170 basis points less than the Class A rate of 12.3 percent. This is the only real estate cycle in recent history in which Class B availability rates have been lower than those for Class A. This trend started in 2012 and has continued for the last 10 months.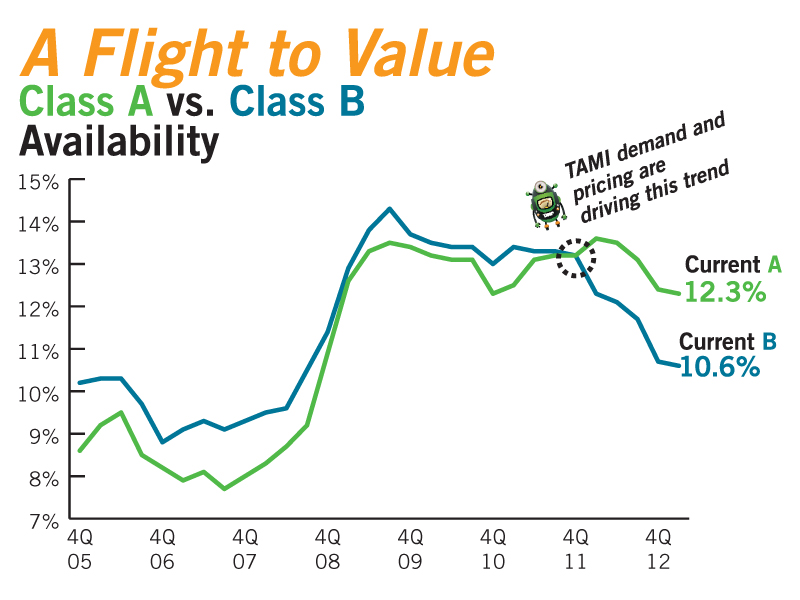 There are three major factors contributing to this trend: the $20-per-square-foot spread between Class A and Class B pricing ($70.56 and $50.05 per square foot, respectively), demand coming from the TAMI (tech, advertising, media and information services) sector, which is focused on the predominantly Class B Midtown South market, and tenants in Midtown looking to save on real estate expenses by moving to more cost-efficient space.
There has always been a wide spread between Class A and Class B pricing, and that spread is actually narrowing due to TAMI's demand for Class B space. As the Class B market tightens, expect the pricing gap to narrow further with average Class B asking rents reaching historically high levels.
If demand for Class A space in Midtown remains stagnant throughout 2013, a price correction for the high-end spaces could occur, and at the very least landlords will likely increase concession packages to make their once-heralded space more attractive.
Richard Persichetti is the vice president of research, marketing and consulting at Cassidy Turley, with 14 years of NYC research experience