ELANY Renews Lease at 55 Broadway
---
---
The Excess Line Association of New York has renewed its lease at 55 Broadway, it was announced yesterday.
The lease is for the entire 9,500-square-foot 29th floor and is a five-year deal for a total of 6½ years, according to David Israni, senior managing director at Broad Street Development, the landlord.
Asking rents for the building are in the high 30s, Mr. Israni noted. With 18 months left to go on the existing lease, the new deal was in the 40s and was amortized into the deal with ELANY's remaining obligations, he said. The deal closed in January, according to a statement.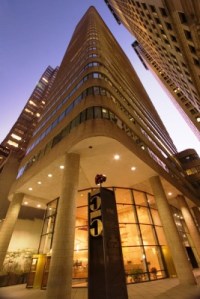 The new deal benefited both parties, Mr. Israni said. "It was more managing their desire to get work done and our desire to have a lease renewed that was coming up," he said.
Broad Street is planning cosmetic changes to the space, Mr. Israni said, including putting in new bathrooms. "They are cosmetic changes. It was a dated space. They love the building and wanted to sign up for the long haul," he added.
55 Broadway, also known as One Exchange Plaza, is a 32-story, 330,000-square-foot Class A building. Located at the corner of Broadway and Exchange Place, the building was built in 1981 and renovated in 1987.
Broad Street Development has recently completed a number of leases in its buildings at 55 and 61 Broadway. Rosner Nocera & Ragone, LLP recently announced the signing of a 8,135-square-foot lease at 61 Broadway. Other recent signings have included MTV2 Networks and Vincenti & Vincenti.
Richard Levine of CBRE represented the tenant. Mr. Israni, Ramona Huegel and Daniel Blanco of Broad Street Development represented the landlord.