Datemyschool.com Sets Up Shop in Brooklyn's Industry City
---
---
New dating and social networking site, Datemyschool.com, has set up shop at Industry City in Brooklyn's Sunset Park waterfront, The Commercial Observer has learned. The dotcom startup closed on the deal in June but had not released information on the transaction until now.
The burgeoning company has leased 8,500 square feet at an asking price of about $12 per foot, in the complex's Building 3 and according to Industry City leasing manager, Jeff Fein, is one of the many new types of companies making a home there. "We're getting creative, we're getting social media companies like them. That's where the property is headed."
The agreement will keep the eight-employee company in its new headquarters for the next three years, said Datemyschool.com's Edward Reybitz, director of human resources and marketing.
"We started in the lower financial district at a shared space," Mr. Reybitz explained. "We were looking to go elsewhere to have our own space. We plan on growing so we needed something bigger and somewhere we could do our own thing."
It was cost and accessibility that brought Datemyschool.com to Industry City. "The buildings were nicely constructed, it seemed very accessible because of the location of the metro and for what we could get – versus what we could ultimately get in Manhattan – its doubled or almost tripled the amount of space."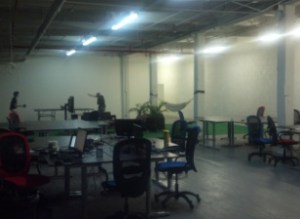 Another aspect of the site that made Industry City an attractive landing zone for the company was its proximity to the water. An East River location, with views to Manhattan, was important for company founders Balazs Alexa and Jean Meyer.
The company's new digs feature an office, storage space, the all-important work space and a ping pong table.
Datemyschool.com offers a new twist on dating and networking, offering a dating platform for students and alumni that boasts extensive privacy control and safety features. It permits only verified students and alumni to join and enables members to restrict schools, departments, individuals and other groups from accessing their profiles. "We have about 200,000 users nationwide," said Melanie Wallner, the site's director of public relations.
Now that the company has settled in, it plans to expand its user base. "Very soon we're going to be launching on mobile," Ms. Wallner explained. "And we will be expanding internationally as well." Korea is the first target for international growth, as Datemyschool.com's investors are based there. Regardless of its targeting users overseas, the company will be centered in Industry City. "Probably for a very long time," she added. "We love it there."