Check Out George Soros' New Open Society Institute Offices
---
---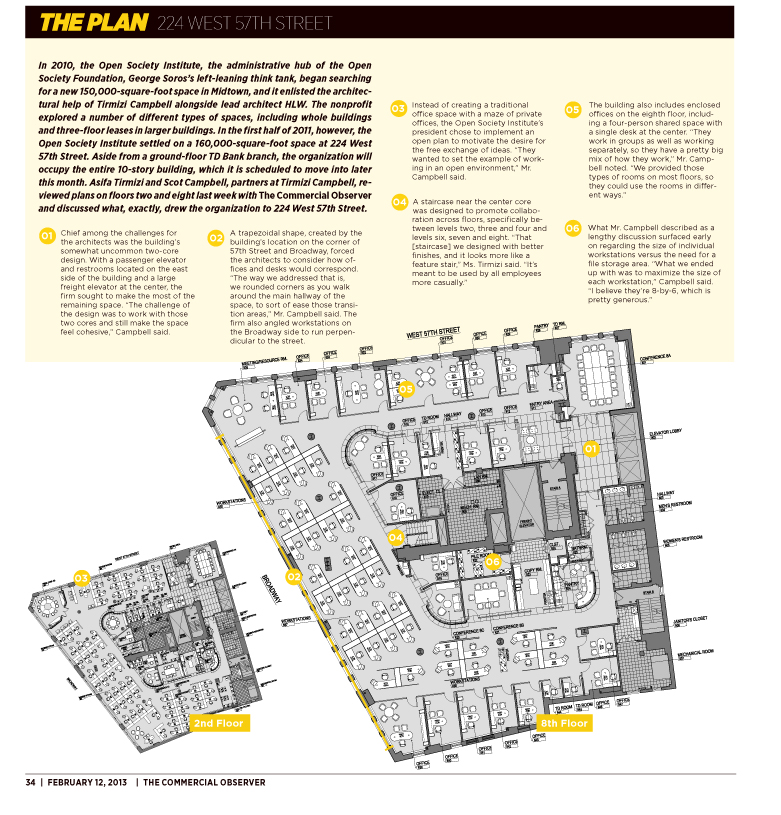 In 2010, the Open Society Institute, the administrative hub of the Open Society Foundation, George Soros's left-leaning think tank, began searching for a new 150,000-square-foot space in Midtown, and it enlisted the architectural help of Tirmizi Campbell alongside lead architect HLW.
The nonprofit explored a number of different types of spaces, including whole buildings and three-floor leases in larger buildings. In the first half of 2011, however, the Open Society Institute settled on a 160,000-square-foot space at 224 West 57th Street. Aside from a ground-floor TD Bank branch, the organization will occupy the entire 10-story building, which it is scheduled to move into later this month.
Asifa Tirmizi and Scot Campbell, partners at Tirmizi Campbell, reviewed plans on floors two and eight last week with The Commercial Observer and discussed what, exactly, drew the organization to 224 West 57th Street.
[scribd id=125130770 key=key-1kiaikrk5ssx1vdkrcpm mode=scroll]