Building Owner Sues Owner of Former Lenox Lounge for Stripping Building
---
---
The owner of the building that housed the former Lenox Lounge at 288 Lenox Avenue in Harlem is reportedly suing the owner of the club for stripping the space of its iconic Art Deco façade and fixtures.
The Commercial Observer reported last month that Alvin Reed, owner of the Lounge, had signed a 15-year lease at 333 Lenox Avenue due to an insurmountable rent increase at the former space, and that he had brought with him a truckload of items from the old location that would be used to recreate its original vibe.
The New York Daily News reports that Ricky Edmonds, owner of the building, is now suing Mr. Reed for $50 million, claiming that he owns the items removed.
"The front facade was removed.  The interior and exterior doors were being removed. Fixtures such as mirrors, light fixtures, signs and banquettes were removed, completing their extensive stripping and looting of the property," the suit claims.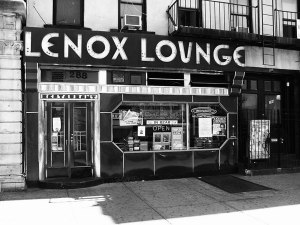 But Mr. Reed's lawyer, Tyretta Foster, claims that everything taken was "part of a bill of sale that was transmitted when [Mr. Reed] purchased the business and the furnishings," according to the News.
Mr. Reed purchased the club in 1988, bringing back the live jazz premise and later restoring the classic Art Deco interior, but he was forced out of the iconic watering hole when the rent was reportedly doubled from $10,000 to $20,000 per month.
The renowned Harlem jazz club, founded in 1939 and host to performances by jazz greats including Billie Holiday, Miles Davis, and John Coltrane, is set to reopen at its new location sometime this summer.
In addition to hosting a long list of jazz acts over multiple decades, the Lenox Lounge was featured in numerous big and small screen scenarios, including its appearance in the 2000 remake of the film Shaft, American Gangster, a pilot for the show Mad Men, and an episode of New York Undercover.
The new space consists of approximately 1,500 square feet on the ground floor and 1,200 square feet of basement space, and it will feature much of the original interior.
Richard Notar, a managing partner of the Nobu Japanese restaurant chain, took over the original space at 288 Lenox Avenue, to be renamed Notar Jazz Club.
288 Lenox Avenu
,
American Gangster
,
Billie Holiday
,
Food & Drink
,
John Coltrane
,
Lenox Lounge
,
Mad Men
,
Miles Davis
,
New York Undercover
,
Notar Jazz Club
,
Richard Notar
,
Ricky Edmonds
,
Shaft
,
Tyretta Foster