Avison Young Team Tapped To Sell 16 West 36th Street Leasehold
---
---
Avison Young was named the exclusive agent to market for sale a 29-year leasehold at 16 West 36th Street, the Canadian firm's fast-growing New York office announced yesterday.
Neil Helman and Charles Kingsley, both principals and members of the firm's Capital Markets Group, are marketing the leasehold on behalf of 16 W. 36th Associates LLC, the landlord of the 13-story Midtown property with 67,271 rentable square feet.
The landlord is a partnership between a private real estate investment fund and local investor, both of whom wish to remain anonymous at this time.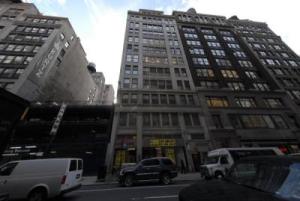 Last March, owner NorthEnd Equities acquired the building from Beach Plaza Associates for $8.2 million. 16 West 36th Street is about 96 percent occupied, with several of its 24 office tenants paying below market rates (an average $27 per square foot versus $32 per square foot).
"Through the end of 2014 just shy of 25 percent of the leases will be rolling," Mr. Helman said. Imminent vacancies should lead to tenants willing to pay higher prices for a building that offers abundant light thanks to a low-lying garage that wraps around the property's eastern and southern sides.
The owner has invested a considerable amount in capital improvements including a new lobby and new elevators. The prior lessee installed new windows.
The property is home to a diverse array of office tenants. "We have some that belong in the Garment District–like those selling costume jewelery and beads," Mr. Helman said. "There's also a security firm and a couple of showrooms."
Avison Young sees this as "only a positive asset," Mr. Helman said. "You're a stone's throw from Penn Station and an easy walk to Port Authority and Grand Central. It's at a highly desirable crossroads of transportation hubs and office districts."
The tenant lease roll and ability to increase rents should lead to a surge in net operating income, Mr. Helman said. He expects the value to reach somewhere in the area of $14 million.