The Running Man: David Schechtman of Eastern Consolidated
---
---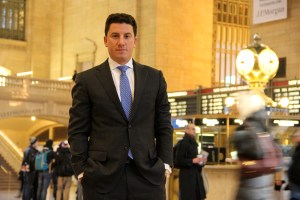 On a typical day, David Schechtman wakes at 5:30 a.m. in his Bedford, N.Y., home, showers, puts on a suit and drives to the train station to make his commute to the city. "I open up my office usually no later than 7:40 in the morning," said Mr. Schectman. "I'll either have an egg sandwich or an Organic Avenue juice. I log onto the computer and I start jamming."
Mr. Schechtman's "jamming" has led to the Eastern Consolidated principal being named the firm's 2012 Broker of the Year—and for good reason. In 2012, he racked up $742 million in total volume—$242 million of which came from note sales.
Prominent among his deals last year were the $150 million trade of the prewar Chatsworth at 340 West 72nd Street on the Upper West Side, the sale of a defaulted senior secured interest in a portfolio of multifamily elevator buildings in Harlem for $65.2 million and the sale of a 6,160-square-foot development site at 133-135 Greenwich Street for $28 million.
The onetime lawyer (he worked for DLA Piper) only pays attention to deals he knows he can close, eschewing those in which the asking price does not comport with reality.
"I'm not at the point in my career where I need to have tons of assignments," said Mr. Schechtman, who heads a team of seven at Eastern, where he has worked since 2005. "I'm at the point in my career where I need to continue closing."
For Mr. Schechtman, one of the more surreal moments of the year came at the end of a bidding war over a $32 million, three-acre defaulted note in Flushing, Queens, on behalf of U.S. Bank National Association.
"At the end, there were two bidders who were the most ferocious," Mr. Schechtman said. One was the private equity arm of a notable billionaire, the other a group of local investors whom he described as "ultra-orthodox."
"The ferocity of each bid was incredible," said Mr. Schechtman. "You'd think they were buying the Empire State Building."
By the end of the bidding process, the local investors topped the billionaire by taking the deal on an as-is basis.
"One of the most difficult and oddest phone calls I've ever had to make in my life was calling the real estate arm of this Forbes list billionaire and letting them know—with their counsel here, and it's one of the Big Three lawyers in New York City for real estate—'you lost,'" he said.
By 9:30 a.m., Mr. Schechtman's day becomes hectic, with calls arriving at a fast pace. "I try not to do lunches anymore—this has been for the past year," he said. "I don't find them efficient anymore."
He generally only goes to showings or building walkthroughs when the deal is ripe, if he's pitching a deal or when bidding on a deal is coming to a close.
An important part of his business has been debt sales—indeed, it accounts for about a third of his total sales value last year—but to Mr. Schechtman it's all real estate, and the vast majority of his note deals end with a tenant being handed the proverbial keys. Today they represent only 10 percent of his deals, he said while perusing a bulletin board with addresses and acronyms written under categories like Hot!, Exclusive and Percolating.
"That business is waning in New York, and it's disappearing because the portfolio lenders … have cleaned up their portfolios."
"Will this change in New York City, not just for me but for other people who deal in goods of this kind? The answer is there will be additional volume and more of the note sales and/or distressed sales when and if the [commercial mortgage-backed securities]—some of those things—see the light of day."
At 4 p.m., Mr. Schechtman sets aside an hour in order to practice yoga. He moves two chairs out of his office to make space, changes into his workout clothes and is visited by a yoga instructor to get his exercise fix (he's run the New York Marathon twice, the Baltimore one once). When his afternoon schedule does not allow for it, he practices in the early morning.
When asked how he predicts the sales market will behave in 2013, Mr. Schechtman is bullish but wary.
"I think the first three quarters of this year—opportunities, signed contracts and closing—are going to continue to be record-setting," he explained. "I'm concerned about the fourth quarter of this year, because it's possible, by that time, our socialist—on the record—left-wing government may do something or may act, yet again, to further hamper commerce."
Such wrenches in the gears could come in the form of taxation. "They have the ability to decimate trade, commerce, industry and real estate," he said. "If they don't—even if they just hurry up and do nothing—then this is going to be another one for the record books. Not even a question."
The Canarsie-born, Long Island-raised broker has reasons for being bullish on the New York market, and his first is that everyone else in the world is too.
"Every single week, I am told by somebody from outside the United States they believe in New York City and they're happy to be here, and they want to do something in New York City because it's still the best, period."
Another reason Mr. Schechtman waves the New York flag is the availability and relatively low cost of debt. "There is still positive leverage," he said. Also, the recession's impact may herald a return to fundamentals. "For the first time in several years, we have a positive savings rate," he said.
Those fundamentals have taught people that real estate is a buy-and-hold type of game. "They don't immediately expect it to be a cash cow," said Mr. Schechtman. "Notwithstanding what people believe, I hate the moniker 'distressed real estate' when it pertains to New York City, because Rome was never burning."
From 5 p.m. to 7 p.m., the phones in Mr. Schechtman's office are on fire. After the onslaught, he makes the 8:22 p.m. train at Grand Central back to North White Plains. He will have spoken to his wife, a practicing New York lawyer, no more than twice throughout the day. He makes a point of speaking with his two children—ages 7 and 5, with a third on the way—at least twice a day while he's at the office.
After returning home and spending time with his family, he'll hit the elliptical machine, then perhaps a game of pool while listening to music. After the 10 p.m. news, it's time to rest.
Mr. Schechtman's structured life seems the product of carefully set priorities married with an innate need for intensity. His schedule—which includes long stretches of time spent with his family on weekends, hiking or playing in the house—achieves a balance that allows him to focus completely while working.
That said, like many in the sales game who love what they do, Mr. Schechtman is never completely off the clock. His BlackBerry remains on his person at all times. Time with his family is sacred—almost.
"I have learned to turn [the BlackBerry] off, except for instances where it absolutely must be on and it's time-sensitive," he said. "If there's an orange threat, I will not field it. If we are on DEFCON five on a deal, I will interrupt anything for it at any time. Anything at any time."