Strike Holdings Group Renews And Expands For 13,754 Square Feet At 545 Madison Avenue
---
---
The financial services firm Strike Holdings Group renewed and doubled its lease at 545 Madison Avenue, bringing the LCOR-owned building to 93 percent occupancy after four months of intense leasing activity.
Strike Holdings' 10-year lease for 13,754 square feet was split evenly between renewed and expanded space. The company signed in 2010 for the 15th floor and is now expanding to the 16th floor of the 17-story, 142,000-square-foot building.
CBRE's Gregg Rothkin, Paul Milunec, Keith Cody and Robert Kluge represented LCOR. Norman Bobrow & Company's Daniel Fiskus represented Strike Holdings.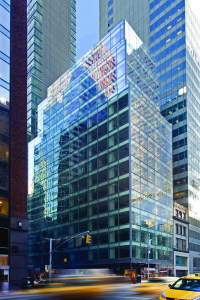 Leases totaling nearly 36,000 square feet–more than one-quarter of the building's office space–have been finalized in the past four months. The real estate investment group Ogden CAP in June signed a 27,000-square-foot lease—the building's largest—for the fourth, fifth and sixth floors.
545 Madison Avenue underwent a gut renovation in 2008 that replaced its 1955 facade with glass curtain-wall recladding. The building now holds LEED Gold certification from the U.S. Green Building Council.
Mr. Rothkin was thrilled by the recent success of the building, which he and his CBRE colleagues started working on in late 2010, when it languished with less than 50 percent occupancy. He attributed much of its turnaround to the people at LCOR.
"They understand the market and understood the market," Mr. Rothkin said. "They were aggressive and scoured around for high quality tenants."
Mr. Rothkin worked on Strike Holdings' initial 15th-floor lease in early 2011, and said the firm was fortunate to find the 16th floor available as it sought expansion.
Mr. Fiskus said that he showed Strike Holdings numerous office buildings around the Plaza district, but that the firm saw 545 Madison Avenue as an ideal place to stay put following a rapid employee growth.
Currently the only available space is the third floor. Mr. Rothkin said a future tenant there would likely come from the financial industry, as many of the building's tenants do. "It caters to financial services firms that are looking for a Plaza district location but don't want to get lost on a 50,000-square-foot floor," he said.
"It appeals to small firms looking for 6,000- to 9,000-square-foot floor-throughs. The building is like a family."
545 madison avenue
,
CBRE
,
Daniel Fiskus
,
Gregg Rothkin
,
Keith Cody
,
LCOR
,
Norman Bobrow & Company
,
Ogden CAP
,
Paul Milunec
,
Robert Kluge
,
Strike Holdings Group