Soho Retail Space Hits the Market—with an Elevator
---
---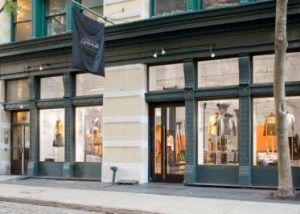 About 6,300 square feet of retail space just popped onto the market in Soho Thursday, featuring two levels and an interior elevator.
80 Wooster Street, between Spring and Broome Streets, is looking for a tenant and is being marketed by exclusive leasing agents, Douglas Elliman's retail Chairman Faith Hope Consolo and Executive Vice President Joseph Aquino.
The property contains approximately 4,300 square feet at ground level, approximately 2,000 square feet at the lower-level selling space with offices, and an estimated 40+ feet of frontage. Owner, Christopher Fischer Cashmere, is expanding its space at 1225 Madison Avenue and vacating 80 Wooster, creating an opportunity for a new retailer. The owner is looking to lease for $225 per square foot.
All of the space available can be used for retail purposes. "In Soho, a lot of people operate downstairs with retail but it's not legal," Mr. Aquino said. "This one is legal."
Though the space is in the vicinity of retailers like Chanel, Burberry, Tiffany & Co., and Mulberry; Ms. Consolo and Mr. Aquino are considering food vendors and restaurants among the dozen or so interested parties circling the property. "There's a large demand in Soho right now for food," Mr. Aquino said.
Though the duo would not disclose which restaurants are interested in 80 Wooster, Ms. Consolo suggested that higher end eateries and vendors were possibilities. "We're interviewing types like Sant Ambroeus, like Balthazar, and of course any of the Danny Meyer concepts would work here too," she said. "Food and fashion go together and there's a lot of demand. There aren't enough restaurants in Soho and since this is a self-contained unit with huge visibility, huge frontage, it really lends itself. And you can do lunch and dinner, and that's what people need to have."
Mr. Aquino expects that the owner will accept a tenant within 90 days. "We should be in and out of this," he said.