Marcus & Millichap Arranges $8.9 M Sale of Washington Heights Building Near Medical Community Epicenter
---
---
Marcus & Millichap has arranged the $8.9 million sale of a six-story, 42-unit elevator building at 1090 St. Nicholas Avenue in Washington Heights, positioned in a pocket of the neighborhood anchored by a number of medical institutions.
The buyer, an undisclosed local investment firm, will continue to run the residential, mostly rent stabilized apartments and retains the Metropolitan Center for Mental Health as a tenant in the basement-level commercial space.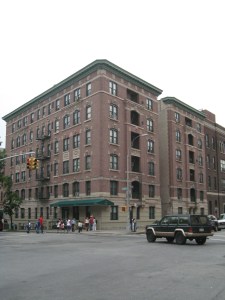 "The buyer was drawn to this property because of its proximity to the hospitals, which are just around the corner," said Marcus & Millichap's Peter Von Der Ahe, who brokered both sides of the transaction with Scott Edelstein and Sean Lefkovits.  "It's a great play on their part – there will eventually be upside in the residential units and the large commercial space that's already leased out to the medical group provides them with a healthy chunk of stable income."
The residential units in the building are mostly rent stabilized, with rents that fall 15 percent below market rate, which ultimately could land higher rents with upgrades and renovations, as a wealthier populace made up of medical professionals filters into the neighborhood.
"The new developments and services coming into the area are drawing workers from all over the city," Mr. Von Der Ahe said.  "Over time the buyer will reposition the property, which means a higher quality of tenant made up of nurses, medical students, and other people from the medical industry."
The neighborhood is anchored by a number of medical institutions – including New York-Presbyterian Hospital, where Secretary of State Hillary Clinton was recently treated for a blood clot in her brain.

The university hospital is affiliated with two Ivy League medical schools – Columbia University's College of Physicians and Surgeons and Weill Cornell Medical College – and it is made up of two distinct medical centers, Columbia University Medical Center and Weill Cornell Medical Center.
The Metropolitan Center for Mental Health, the basement tenant at 1090 St. Nicholas Avenue, offers low cost psychological treatment for people with emotional problems and provides affordable mental health services and training opportunities to the medical community.
1090 St. Nicholas Avenue
,
Columbia University
,
Columbia University Medical Center
,
Columbia University's College of Physicians and Surgeons
,
Hillary Clinton
,
Metropolitan Center for Mental Health
,
New York-Presbyterian Hospital
,
Peter Von Der Ahe
,
Scott Edelstein
,
Sean Lefkovits
,
Weill Cornell Medical Center
,
Weill Cornell Medical College
,
Marcus & Millichap