Lenders Fairly Satisfied with 2012 Results
---
---
As the final hours and minutes of 2012 ticked down, a number of the leading bankers who provide real estate financing were taking stock of 2012's results. A majority of those reached for comment conceded that they had reached or exceeded their expectations. Nevertheless, they said, with the year coming to a close, they must once again prepare to start from zero to reach new goals.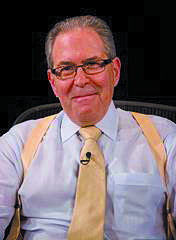 With changes in estate taxes and the transferring of interests, coupled with the increase in capital gains and higher taxes set to begin this month, many of the local lenders had to postpone their holiday vacations to meet the year-end rush of financing.
In December, at holiday parties and other events, conversation often included mention of business having returned—almost as if we're back in 2007.
Though the volume of financing definitely rose in 2012, it didn't reach the CMBS levels of 2007. Wall Street investment bankers did not expect CMBS financing to rise by nearly 50 percent from 2011, reaching nearly $50 billion of new issuance. Investment sales—especially sales of retail assets—aided CMBS lenders in reaching this level of financing. The sale of Kings Plaza Mall in Brooklyn for $751 million, for example, was the largest commercial real estate sale of the year, as well as the biggest single trade sale in Brooklyn. Vornado Realty Trust's 32.4 percent affiliate Alexander's sold the property to the Macerich Co., which also entered into an agreement with Vornado to purchase the Green Acres Mall in Valley Stream, Long Island, for $500 million.
One of the largest financing transactions of the year took place in November, when a partnership that included Vornado Realty Trust completed the $950 million refinancing of the 2.1-million-square-foot office building at 1290 Avenue of the Americas. The 10-year interest-only loan bears interest at a rate of 3.34 percent.
REITs and other publicly traded real estate financing companies were instrumental in providing financing last year. In October, Starwood Property Trust and Starwood Capital Group announced the co-origination of a $475 million first mortgage and mezzanine financing for the acquisition and redevelopment of a retail building in Times Square at 701 Seventh Avenue—the Times Square Gateway Center. Later in the month, the entity sold a 25 percent participation in the financing to Vornado Realty Trust.
One of the most sought-out real estate investments in 2012 was residential real estate. Lenders from every avenue of the industry provided financing at record low rates, in many instances as low as 3 percent. Perhaps the largest residential financing took place in November, when New York State Gov. Andrew Cuomo, New York City Mayor Michael Bloomberg and U.S. Housing and Urban Development Secretary Shaun Donovan announced the closing of a $621.5 million loan to refinance Co-op City in the Bronx. The federal, state and city governments announced that their respective agencies had collaborated to jointly insure the mortgage loan made by Wells Fargo Bank, which will refinance the complex's existing debt at historically low interest rates. Under the terms of the loan, Co-op City, which first opened to the public in 1968 and is the largest Mitchell-Lama co-op, will remain affordable to residents for 35 more years.
The Wells Fargo loan to RiverBay Corp., which controls Co-op City, is the largest ever insured under HUD's 223(f) program. The program protects lenders against losses on mortgage defaults at multifamily rental properties. The Co-op City loan marks the first time the program has been applied to a co-operative development. The Mortgage Insurance Fund of the State of New York Mortgage Agency and New York City's Housing Development Corp. will provide credit support, with $55 million and $15 million coverage of the loan, respectively.
Meanwhile, regional savings and commercial banks were very active in providing financing for multifamily rental properties in the region. Lenders—including New York Community Bank, Investors Bank, Capital One, Signature, Dime Savings Bank of Williamsburgh, Oritani Financial, M&T and Sovereign—helped to provide in excess of $20 billion in financing.
Joining the ranks of lenders in the multifamily financing market in 2012 were People's United Bank and First Republic Bank. During their first full year of providing financing for commercial real estate, People's United Bank provided nearly $300 million in financing. John Costa, executive vice president, who joined the bank in July, expects the bank to provide more than $1 billion in financing in 2013.
M&T Bank, one of the most active lenders in the market, reached its financing goals in 2012. "We were, and continue to be, active in providing financing to seasoned, established real estate investors," Peter D'Arcy, regional president for New York City, told The Mortgage Observer. "And we provided both construction financing for rental and low-leverage condominium developments."
Syndications of lenders—which included Bank of America Merrill Lynch, M&T Bank, Wells Fargo, Capital One, Sovereign/Santander and JPMorgan Chase—were active in club deals for major transactions that included residential rental and condominium developments in Manhattan, the outer boroughs and the Gold Coast of New Jersey.
And on the international front, foreign lenders like Westdeutsche ImmobilienBank, Eurohypo and ING Real Estate Finance (USA) reduced their exposure to financing (see Alessia Pirolo's article on this subject on page 22). As The Mortgage Observer mentioned earlier this fall, taking over for the lenders that have left the market are new players on Wall Street and international banks from areas outside Europe, as well as insurance companies and real estate finance companies.
With the new year under way, all signs point to a continued increase in commercial real estate financings, and potentially even more cause for celebration when it comes time to close out this current year.