Kosher Restaurant La Brochette Signs 10-Year Lease With Plans to Gut Renovate Murray Hill Restaurant Space
---
---
La Brochette, a new kosher steakhouse and restaurant, is coming to Murray Hill, The Commercial Observer has learned.
The tenant has signed a 10-year, 4,680-square-foot lease at 340 Lexington Avenue, where the restaurant takes the place of former kosher steakhouse La Carne Grille, which occupied the property for years and was a go-to hangout for the kosher-eating community.
The restaurant is slated to open its doors in the spring of 2013, said Christopher Okada of Okada & Company, who represented the tenant (Francis Leung, also with Okada & Company, represented the landlord).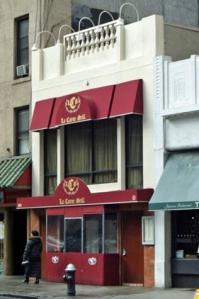 "It's definitely an interesting neighborhood and they felt there was a market there for them," Mr. Okada said.  "There was a famous kosher restaurant there before and this new venture will also cater towards the kosher community."
Mr. Okada said the deal was signed at a rate very close to the asking rent of $25,000 per month, though he declined to specify the exact figure.
The new tenant will renovate the two-story building, which includes a basement space, and Mr. Okada said the high-end steakhouse is toying with the idea of installing a roof deck.
"They will complete a full gut renovation – it's going to be beautiful," he said.
Though the previous tenant was all the rave with locals and generally hailed favorable reviews, the renovation is in order, at least according to one Yelp commentator, David K. from Manhattan, who had the following words of advice for the previous tenant back in February:
"Food is good but ambiance is a bit shabby for that price range," he wrote.  "The place desperately needs a renovation.  My recommendations: Clean up the place, get rid of the dirty fish tank and worn out furniture.  Improve the service and start taking American Express."
Okada & Company handles retail leasing, commercial leasing and sales for dozens of building owners across Manhattan.
La Brochette could not be reached for comment.