IT'S A MOD, MOD, MOD, MOD WORLD
---
---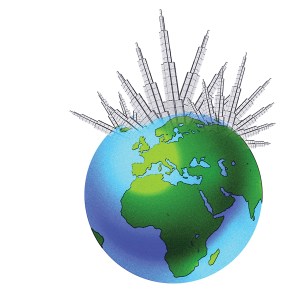 Two years ago, Bruce Ratner sought to ease a shrinking budget and appease swarms of critics who lambasted the original rendering for a residential tower at Atlantic Yards in Brooklyn as a "Lego-like" atrocity.
Like a frustrated schoolboy, he punted the plans to erect a set of oddly arranged giant blocks, shoving designer Frank Gehry aside and bringing in a team of modular consultants who—ironically, given the reputation of modular buildings—transformed the blueprint into a much sleeker 32-story structure.
"It will be beautiful," Mr. Ratner said at the groundbreaking last month. "You do not have to compromise on design when you build modular, and this building will prove that."
The success of the B2 building, set to become the tallest modular building in the world, will serve as a catalyst for the growth of modular construction among high-rise and commercial buildings, a market that has exploded elsewhere in the world and that modular builders in the United States have hoped to tap into for years.
The project also highlights the growth of modular design across property types throughout New York City, as real estate companies look to trim costs and save time by incorporating modular methods into commercial buildings, using prefabricated façades, paneling, doors, roofing and computerized interfaces.
"There is no such thing as site building anymore," said Tom O'Hara, director of business development at Capsys Corporation, a modular builder. "Every single site is using prefabricated construction. Something is componentized, whether it's the roofing or the doors. Modular takes that one step further—it's the zenith of that process."
The 32-story, 363-apartment B2, which will almost rub up against the new Barclays Center, is one of 15 modular towers said to be coming to the site. Like other modular buildings, much of it is being manufactured in a factory setting, and it will eventually be hauled nearly two miles from the Brooklyn Navy Yard and snapped together on-site.
It's unlikely that 32-story modular buildings will begin popping up across the city anytime soon, but Mr. Ratner's decision shines a spotlight on a building method that has existed for decades.
Proponents of the method have treated modular design as gospel for years, and real estate industry professionals (even those not directly involved in modular building) agree that the cost and time savings afforded in smaller-scale projects translates into larger, taller buildings.
"It's one of the best-kept secrets in the real estate industry, but I think that this building will change that," said Amy Marks, owner and president of XSite Modular, the modular consultant on the Atlantic Yards project. "If you're building a building today and not considering some sort of modular or prefab, you're missing out on a tremendous value."
Modular buildings consist of multiple sections, or modules, that are built in a remote facility and then delivered to a construction site and assembled. Because components are created in a factory setting, the method can save time, money and reduce water and energy consumption.
Modular builders procure less-expensive materials from a range of global distributors. While the controlled assembly line-like environment offers factory workers a steady 9 to 5, they are generally paid much less than their on-site counterparts. On-site carpenters earn as much as $50 more in wages and benefits, some experts said.
Consultants on the B2 project have said modular design will shave 10 months off of the 28-month construction schedule, and others said a fully modular design could cut the schedule by as much as 50 percent.
"Whether that means hospital are getting patients into beds sooner, or landlords getting tenants faster, that makes a big difference," Ms. Marks said.
The B2 isn't the first building to thrust modular design into the public eye. In 2009, a 24-story, $34 million high-rise dormitory was completed in Wolverhampton, England, in less than 12 months, becoming the tallest modular building in Europe. And several years ago, China set off a firestorm in the industry when it started building modular hotels and completing the projects in a matter of days.
(click below for page 2)
330 MacDougal Street
,
Amy Marks
,
Ark Hotel
,
Atlantic Yards
,
Barclays Center
,
Broad Sustainable Building Corporation
,
Brooklyn Navy Yard
,
Bruce Ratner
,
Building and Construction Trades Council of Greater New York
,
Cambria Suites Hotel
,
Capsys Corporation
,
Deluxe Building Systems
,
England
,
Frank Gehry
,
Garrison Architects
,
Gary LaBarbera
,
Lehman College Child Care Center
,
Lehman College Science Building
,
MacDougal Street Apartments
,
McDonald's
,
NRB
,
Perkins + Will
,
Scott Spector
,
Spector Group
,
Tom O'Hara
,
Wolverhampton
,
XSite Modular