Vacant Midtown Office Building Coming to Market—With Air Rights
---
---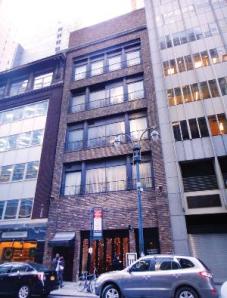 If the location of the six-story, elevatored office building at 4 East 46th Street wasn't enough to pique the interest of a developer on the prowl for Midtown property, the fact that it will be delivered to a buyer vacant (save for grade restaurant space) might. Should that fail, the possibility of controlling over 30,000 square feet of air rights – or undergoing a transformative expansion – would probably do the trick. The asking price for 4 East 46th Street is $21 million.
The building – held by private owner, Ed Friedman – is 16,115 total square feet but comes with 30,000 square feet of air rights, for a potential 45,000+ square feet after expansion. Eastern Consolidated Principal, David Schechtman, and Associate Director, Steven Zimmerman – who are marketing the property – feel that the best use of the air rights is for the eventual purchaser to undergo an expansion. "This building is only six-and-a-half stories and it lives in a sea of buildings that are much taller," Mr. Schechtman said.
Should a buyer decline to expand into the sky, those air rights could be worth a minimum of $400 to $500 per square foot to a receiver, he said.
The proposed rezoning of Midtown East could be a boon to the property should it be upzoned, Mr. Schechtman said. "That could only add to the lure of this building–you could make it bigger."
Messrs. Schechtman and Zimmerman plan to market the building to potential buyers such as educational institutions, venerable institutions, diamond district tenants, corporations and nation states for embassy use. "We've been compiling that list for a long time and it's a work in progress," Mr. Schechtman said.
The property will be introduced to the larger market of investors for office space, potential conversion to hotel use or other permissive Midtown use.
The cellar, mezzanine and first floor are leased by Vitae, a high-end restaurant that signed a 10-year contract beginning September of 2012.