Deals Under 20,000 SF Ruled in 2012
---
---
Mega deals rule the commercial real estate market and the trade papers, as everyone in the industry wants to know where the latest big block of space was leased and who will take down the next one.
The market saw its share of deals that were 100,000 square feet and more in 2012, just slightly off of 2011's pace—53 versus 56, respectively. It is always great to read about the UBS-type 890,000-square-foot renewals and expansions and the Microsoft-like 204,000-square-foot deals, but based on the number of transactions, these household names account for merely 3 percent of the leasing activity in any given year.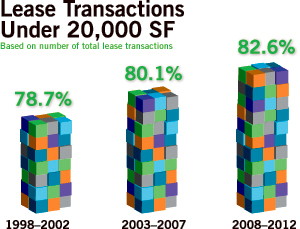 In fact, the market is ruled by small tenants ranging from 1,000 to 20,000 square feet, which account for 82.6 percent of the deals signed over the past five years. As tenants become more efficient, the amount of space leased is shrinking. From 2003 to 2007, leases under 20,000 square feet accounted for 80.1 percent of the deals closed. The last five years saw that number increase, with startup tech firms having a hand in that growth.
The current tech boom has not only changed the landscape of the market as these savvy newcomers have flocked to Midtown South the past two years, but it has also helped move the tenant occupancy numbers down.
And it isn't just the tech firms; it is also the products they are producing. Tenants making use of cloud computing need less space for enormous server rooms, and together with the ability for employees to work seamlessly from home, this is changing the way companies plan their space.
So the next time you read about a mega deal, realize that for every three of these monsters, there were 82 deals completed under 20,000 square feet.

Richard Persichetti is the vice president of research, marketing and consulting at Cassidy Turley, with 14 years of New York City research experience