CBRE Debt and Equity Team Talks Trends
---
---
For CBRE's Keith Braddish and Mark Fisher—the two elder statesmen in the firm's capital markets debt and equity finance division—the more fractured lending environment that has arisen out of the collapse of the CMBS market and the concurrent economic malaise has meant the opportunity to dazzle and shine.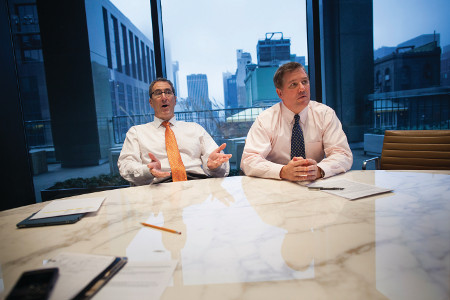 The Mortgage Observer caught up with the pair on a blustery winter morning before the new year, to learn how recent shifts in lending have impacted their business, as well as how they expect 2013 to shape up.
The shifts include a more complex structuring of deals and an increasing appetite, or tolerance, for financings that were, until recently, considered taboo and unlikely to happen—like the Larchmont, N.Y., condo deal that Mr. Braddish is currently handling or an advising assignment that Mr. Fisher had for the mezzanine lender at 70 Pine Street.
And gone are the days when deals were all priced at basis points that were within a few points of one another, no matter which lender you went to.
"We used to do a lot of CMBS business, which was right down the middle of the fairway," Mr. Braddish said. "And now what we're seeing is more structured finance business." This includes, he said, preferred equity and mezzanine debt, as well as recapitalizations.
"Structurally, CMBS can't compete now," Mr. Fisher added. "Back in the day, the B piece would go for next to nothing. Now, if you have to chop it up and syndicate it, you're nowhere near pricing of the insurance companies and the agencies."
So the pair's opportunity to shine has come from a market they describe as fractured and inefficient.
"When it's very easy and very efficient, it's easy for a borrower to call up and go direct, but the displacement in the market—with one guy at 4 percent and another guy at 3 percent—that makes our sell to a borrower a lot easier," Mr. Braddish pointed out.
Mr. Braddish, an executive vice president, has been with the company for 13 years, always on the debt and equity side. He joined in 2000 from the New York and New Jersey office of HFF, where he worked from 1995 to 2000.
He said "2000 was when the CMBS market really started to kick in" and explained that business essentially hummed along, until 9/11—when it paused for six to 12 months.
Mr. Fisher, a senior vice president, joined about nine years ago. He had also worked for HFF in the mortgage banking firm's Westport, Conn., office. The two knew each other from their shared time at the firm and currently have existing clients that they share.
"A lot of the business we work on, I would say it's 60/40 our own individual business," Mr. Braddish explained. "If I have a major multifamily deal—a rental—in New York City, I'm most likely going to bring Mark in because that's his area of expertise. And we kind of pick and choose different team members based on their abilities, so there is a fair amount of interaction."
Some of this interaction is via CBRE's Deals Help/Capital Access program—a proprietary software program that facilitates up-to-the-minute sharing of information with colleagues. It "allows us to communicate with 100 other guys who do exactly what Mark and I do across the country," Mr. Braddish explained. Sharing information in this way is an additional way to add value when covering dozens of lending sources.
The usefulness of the Deals Help/Capital Access program speaks to another important point—CBRE's size. Take the case of Kane Realty's 420-unit Park and Market residential project in Raleigh, N.C. CBRE, as a group, financed it with mezzanine debt, Mr. Fisher said. Then, since selling the entire structure wasn't the best execution, it was split in half and each part was financed separately.
"Our guys out of Atlanta sold the multi, we financed the retail and then a group out of Hartford financed the buyer of the multi," Mr. Fisher recalled. "So we financed the sale and we financed for the seller the ground-floor retail."
1930 Broadway
,
70 Pine Street
,
711 Stewart Avenue
,
Angelo Gordon & Co.
,
CBRE
,
CMBS
,
Gary Jacob
,
Glenwood Management Corporation
,
Grand Tier
,
HFF
,
joe farkas
,
Kane Realty
,
keith braddish
,
Malcomb McComb
,
mark fisher
,
Mesa West Capital
,
Metropolitan Realty Associates
,
Mezzanine Financing
,
Michael Riccio
,
New York State Teacher's Retirement System
,
Park and Market
,
Phil Brosseau Jr.
,
Raleigh
,
Real Capital Analytics
,
Steve Heffner
,
UBS Real Estate Securities