American Realty Capital Acquires 350 Bleecker Street Retail Condo
---
---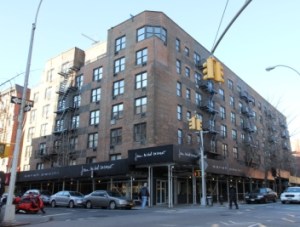 American Realty Capital New York Recovery REIT Inc. has acquired the long-term master lease for 14,510 square feet of retail and garage space at 350 Bleecker Street, at the northwest corner of West 10th Street, for $10.9 million. There are about 50 years left on the master lease.
The deal, which closed on the last day of December, was motivated in part by a desire to avoid increases in capital gains taxes, said Michael Cleeman, vice president of Cohen Real Estate, which represented the buyer. The seller – an investor partnership affiliated with Time Equities who Mr. Cleeman would not name – was represented by Vera Thomas, senior managing director with Cohen Real Estate. The seller had owned the property for over 40 years.
The property's fully leased 6,290 square feet of ground floor retail space currently houses two upscale ladies apparel stores—JMC Shoes and the only U.S. outlet of SP Fashions, which boasts 60 stores throughout Europe. The building's 8,220 square foot basement garage has a 150 car capacity.
At the moment there are no plans to alter the property and the tenants will remain in place, as will the parking garage, Mr. Cleeman explained. There are no plans to sell the property in the near future, he added.
The property was never formally placed on the market, rather Cohen Real Estate's relationships with the seller and buyer allowed the firm to make the introduction and broker the deal, he said. American Realty Capital is an aggressive hunter of properties, Mr. Cleeman added.
"American Realty Capital saw a great opportunity to add to their portfolio of retail properties along the Bleecker Street retail corridor and view the growth of upscale tenants to the area as a great benefit to the property for many years to come," he said, as part of a prepared release.
In November, Mr. Cleeman brokered the sale of the retail condominium at 1 Bleecker Street, along with 324 Bowery and 3 Bleecker Street, for $13.4 million to another private equity firm.
He said that fears of increases to capital gains taxes spurred a flurry of sales toward the end of 2012. Still, without that added pressure, Mr. Cleeman said he felt 2013 would be strong year given investors' desire to bank on real estate. "What better place to do it than New York?"