92,000-Square-Foot Retail Space Hits Williamsburg Market
---
---
Two floors encompassing 92,000 square feet of retail space at the luxury residential conversion 185 Wythe Avenue in Williamsburg are on the market.
The leasing agency, TerraCRG, claims in the listing that this is the largest contiguous available retail block in the north Brooklyn neighborhood. Asking rents are at $50 per square foot for minimal divisible lot sizes of 5,000 square feet.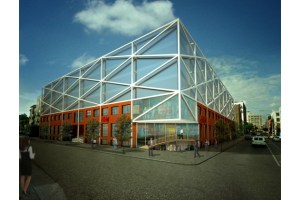 185 Wythe Avenue between North Fourth and Fifth Streets is well-positioned to take advantage of the increased foot traffic brought to the Williamsburg waterfront by hulking residential towers including The Edge and Northside Piers. The residential component of the roughly 184,000-square-foot, four-story building will include 183 units and be "very, very green," according to Curbed.
The Commercial Observer last week reported on the imminent arrival of the 11,424-square-foot Output nightclub on Wythe Avenue between North 11th and 12th Streets. The once-forlorn strip has recently witnessed the high-profile arrivals of the Wythe Hotel and a smattering of after dark businesses. (Another nightclub–this one around 7,500 square feet and from the techno- and house-fueled warehouse party promoter Verboten–is rumored to be following in Output's footsteps on Wythe Avenue near North 10th Street.)
"You're starting to see a tipping point in the neighborhood," said Geoffrey Bailey, director of retail services at TerraCRG, which brought the trendy spinning mecca SoulCycle to nearby 184 Kent Avenue last November. "There's less of a residential and more of a restaurant and hospitality component to the northside, whereas the waterfront district is getting more service-oriented businesses."
Mr. Bailey said that in addition to gyms and playspaces, several schools have scoped out properties in the area with a noticeably swelling stroller contingent.
Whichever tenants set up shop in 185 Wythe Avenue will have a bigger, name brand retail neighbor: Whole Foods is scheduled to open a 39,000-square-foot outpost at 242 Bedford Avenue by the middle of next year.
185 Wythe Avenue
,
gentrification
,
nightclub
,
Northside Piers
,
Output
,
TerraCRG
,
The Edge
,
Verboten
,
Whole Foods Market
,
Williamsburg
,
Wythe Avenue