With more than 50 million tourists running amok each year, consumers feeling recharged, and throngs of foreign retailers streaming in, Manhattan's prime retail corridors are not only booming—they're expanding.
High rents and low vacancies in prime corridors are changing the invisible boundary lines that once separated high- and low-end sections of Fifth Avenue, Madison Avenue, Greenwich Village and other retail corridors throughout the city, analysts and real estate brokers claim.
"When these big names and huge chains move into these areas, people just love to follow them," said Jeffrey Roseman, an executive vice president and principal with Newmark Grubb Knight Frank's retail division. "They become anchors and magnets to pull others."
Just as the earlier success of Urban Outfitters and H&M sparked further expansion below 49th Street on Fifth Avenue, and Alfred Dunhill and watchmaker Panerai boosted retail appeal below 57th Street on Madison when they emerged in 2009, aspirational clothing retailers are now doing the same in Greenwich Village.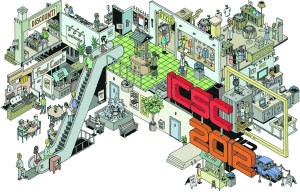 Rents on Fifth Avenue between 49th and 59th Streets, a swath of Manhattan where vacancy is particularly low, eclipsed all other markets in the city, with average asking rents clocking in at $2,690, according to the Real Estate Board of New York's Retail Report.
"Retail rents in many primary corridors continue to rise as those markets mature and demand outpaces supply, driven in part by increased interest from international tenants," said Adam Schorsch, vice president at American Realty Capital.
But rents rose just 2 percent on that strip since last fall, in contrast to lower Fifth Avenue, between 42nd and 49th Streets, where year-over-year average rental rates increased by 51 percent.
A handful of popular clothing brands in the 40s have changed the view of lower Fifth in recent years—Urban Outfitters has a shop near 43rd Street, Guess has space on 47th Street and H&M has an outpost on the corner of 42nd Street.
More recently, Ted Baker opened its 12,000-square-foot flagship store at the corner of 48th Street this summer, and lifestyle brand, bar and restaurant Tommy Bahama opened its 13,000-square-foot flagship at the corner of 45th last month. H&M also announced in October that it plans to open a 57,000-square-foot outlet at 48th Street and Fifth Avenue next fall.
"While it isn't maybe as sexy as 52nd and Fifth, 44th and Fifth is still half a block from Grand Central and a block and a half from Times Square," said Mr. Roseman said.  "It's not like it's a desert island."
Retailers and high-end consumers have generally viewed areas below 57th Street on Madison Avenue less favorably than those above as well, brokers said. But between 50th and 57th Streets, a number of elements have come together to make it a viable location, with a number of hotels, residential development to the east and ample transportation in the area, brokers said.
Thomas Pink planted one of the seeds more than a decade ago. Next came British luxury goods brand Burberry, which opened its flagship between 58th and 57th Streets late in 2009.
More recently, Tourneau unveiled its new 3,200-square-foot concept store on the corner of 53rd Street in the summer of 2011, and Swiss luxury watch manufacturer IWC Schaffhausen opened its first U.S. flagship boutique between 54th and 55th Streets in April.
Rents above 57th peaked in the spring, at an average of $1,203 per square foot, according to REBNY data. But rents between 50th and 57th Streets have traditionally hovered around $300 per square foot, brokers said.
"My guess is that before long you're going to see rents in the $500, $600 and $700 range," Mr. Roseman said. "It is really glaring now that [this stretch of Madison] has been underdeveloped and underutilized."
Alfred Dunhill
,
American Realty Capital
,
Brendan Gotch
,
Burberry
,
Cushman & Wakefield
,
Gene Spiegelman
,
Greenwich Village
,
H&M
,
IWC Schaffhausen
,
Jeffrey Roseman
,
Jeremy Argyle
,
Marc Jacobs
,
Mario Batali
,
panerai
,
Ralph Lauren
,
Real Estate Board of New York
,
Ted Baker
,
Thomas Pink
,
Tommy Bahama
,
Tourneau
,
Urban Outfitters