In 2012, Hospitals Expand Real Estate Footprints, from Brooklyn to Harlem
---
---
The city's aging population, a drive for state-of-the-art facilities and strong hiring across the health care industry prompted unprecedented growth in leasing activity in the health care sector across the five boroughs in 2012.
Memorial Sloan-Kettering, Mt. Sinai, Montefiore Hospital and Inventa Health were among the dozens of hospitals and medical companies to announce bold new initiatives to expand their footprints in the city in 2012, and those developments are only a sign of what's to come, brokers and analysts predict.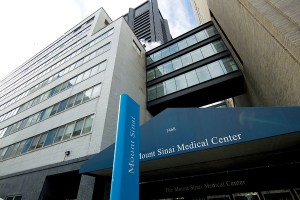 "The health care industry is the 800-pound gorilla in the house," said Michael Berne, managing director of Lee & Associates' senior housing group. "It's a key topic for real estate folks in New York City, as traditional owners start to realize the potential in health care."
In addition, both Ventas and Health Care Properties, health care REIT giants, announced major mergers and acquisitions in 2012. And health services 2012's third-biggest job gainer in the city as of October, with 12,000 new jobs added, according to data from Eastern Consolidated.
The new activity comes with an undercurrent of great change. With the feds directing billions of aid towards the industry—incentives to implement health care information technology as it comes of age—and the aging population surging, health care's effect on the real estate industry could be monumental, especially when looming economic uncertainty is resolved, Mr. Berne said.
The so-called "fiscal cliff," impending tax changes and imminent changes to Medicaid and Medicare through "Obamacare" are among the greatest uncertainties that have prevented a much larger health care explosion.
"Once that economic uncertainty begins to dissipate, you're going to see a massive amount of new development in urban and suburban areas," Mr. Berne said. "Psychologically it's a killer, because a lot of skilled nursing depends on Medicaid and Medicare."
Roughly 10,000 people turned 65 each day in 2012, and the population of Americans 65 and older is expected at least to double by 2030, according to data from the U.S. Department of Health & Human Services.
Traditional real estate companies are realizing the opportunities there, a lead taken by Alexander Scharf years ago at 305 West End Avenue—a former hotel that was converted to luxury senior housing—and a number of real estate companies in the city are on the verge of following suit.
"There are number of owners and developers in the metro area considering conversions of existing buildings into senior housing because of this aging population," Mr. Berne said. "We'll see more and more of these projects in the short years to come."
Many of the deals in 2012 also represented the necessity for health care companies and hospitals to upgrade facilities to match evolving medical technologies.
In September, the city reached an agreement with Memorial Sloan-Kettering Cancer Center and the City University of New York for the construction of two new state-of-the-art science and medical facilities on Manhattan's Upper East Side. The city agreed to sell a 66,000-square-foot site at 525 East 73rd Street for $215 million, what Mayor Bloomberg called "easily one of the largest real estate transactions the city has ever been involved in."
Sloan-Kettering will construct an up-to-750,000-square-foot cancer care facility, and CUNY Hunter College will build an up-to-336,000-square-foot Science and Health Professions building to upgrade its science and nursing facilities.
That project alone is expected to create more than 3,200 construction jobs and nearly 830 permanent jobs, according to an analysis conducted by the New York City Economic Development Corporation, capitalizing on the growth occurring in science, technology and research fields in New York.
In October, Montefiore Medical signed a 16-year lease with Simone Development for a new 280,000-square-foot building at Hutchinson Metro Center, slated for completion in the third quarter of 2014. Hutchinson Metro Center is a 42-acre campus with Class A office space, considered by some an evolution in the delivery of health care, in that it provides new space for multidisciplinary approaches that allow treatment without the need for hospitalization.
In April, a new division of Mount Sinai Hospital—Mount Sinai Brooklyn Heights Medical Group—took the 17th and 18th floors at 1 Pierrepont Plaza in Downtown Brooklyn, a total of 75,060 square feet in the 19-story building. Reportedly, the space had used by Goldman Sachs (GS) as a data center, illuminating the shift from a finance-driven economy to one that relies more on health care, tech and other industries.
In another play to accommodate the aging population, Mount Sinai also unveiled the city's first emergency room dedicated for patients ages 65 and older in Harlem. It features skid-proof floors, extra handrails, dimmable lighting, "diurnal skylights" that mimic natural lighting and noise-dampening curtains.
305 West End Avenue
,
525 East 73rd Street
,
Alexander Scharf
,
City University of New York
,
CUNY Hunter College
,
Fiscal Cliff
,
health care properties
,
Hutchinson Metro Center
,
Inventa Health
,
Lee & Associates
,
Mayor Michael Bloomberg
,
medicaid
,
medicare
,
Memorial Sloan-Kettering
,
Memorial Sloan-Kettering Cancer Center
,
michael berne
,
Montefiore Hospital
,
Mount Sinai Brooklyn Heights Medical Group
,
Mt. Sinai
,
New York City Economic Development Corporation
,
obamacare
,
Simone Development
,
U.S. Department of Health & Human Services
,
ventas
,
Eastern Consolidated
,
Goldman Sachs