Greg Kraut on Avison Young's Breakthrough Year
---
---
Avison Young entered the U.S. market three years ago and, with the help of former CBRE broker Greg Kraut, has managed to establish an impressive beachhead in the New York tristate market. Kraut, now principal and managing director at Avison Young, has built a team of stars that includes former brokers from Grubb & Ellis, Cushman & Wakefield and Jones Lang LaSalle. Mr. Kraut took time last week to discuss with The Commercial Observer Avison Young's recent successes and hires, as well as its 2013 growth strategy.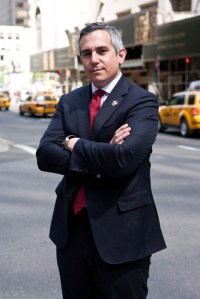 The Commercial Observer: You arrived at Avison from CBRE last year with the task of building a presence in New York. What was the mission, as described to you by Avison?
Mr. Kraut: They told us that they want to build a team of high-level hires as well as acquisitions of companies in the tristate area. We were to position ourselves strongly for future growth and we wanted to make sure all of our tristate market professionals are the best in their respective disciplines, whether that's capital markets, debt equity, loan sales, tenant rep, landlord rep, investment sales, as well as project management.
They also wanted to make sure that people we were hiring were at the top of their fields and that they were culturally compatible with our company. And they made it clear that New York was a top priority and they were committed to building it the right way. We are principal-led, which makes a huge difference.
As you're building a presence in New York, how do you attract talent?
We are a principal-led organization, which is very unique. Seventy-five percent of AY is owned by its principals, and equity ownership is very broadly held. What that means is there's a high level of accountability, no infighting and the ability for people to really build wealth and not just current compensation in their careers.
The clients know the principals and shareholders are the ultimate beneficiaries of client revenue so there is a high level of accountability. Plus, what a lot of other firms are missing—a lot of bigger firms—is that we have an open architectural model, which means we're focused on our competencies and are not interested in trying to be everything to everyone.
What we think the market is turning into is that the clients want specialists, not firms that are mediocre in a lot of things. When you ask about what attracts people, it's the culture, the open architecture, the equity component and what's really more important than anything is the leadership because everything comes from the top down.
And the leadership?
We have three people—the trifecta of commercial real estate—probably the top three commercial real estate professionals in the industry. From guys like Arthur Mirante, who's our tristate president who is a former CEO of C&W for 20 years and he built the firm from $80 million to $1 billion—great reputation, great revenue producer, a salt of the earth type of person.
Than we have a gentleman named Earl Webb, who's the president of the U.S. brokerage who's a former CEO of [Jones Lang LaSalle] the Americas. He helped build JLL from $300 million to a few billion dollars back in the late '90s and early 2000s.
And than you have a gentleman named Mark Rose who is our chairman and CEO who is a former COO/CFO of JLL and CEO of Grub & Ellis, who is far and away one of the smartest CEOs that I've met and one of the most highly respected CEOs in the industry.
What did it mean for the New York team to bring Arthur Mirante on board?
We decided we wanted somebody who was sort of the face of the marketplace, somebody who has unbelievable relationships, is a really good guy who people could talk to, has a ton of experience and really was a game-changer for our organization. Then we brought Arthur on board—and we just saw a plethora of people and Arthur could have gone anywhere—and then you see the people that we've attracted here, both on the leasing side, the capital market side, project management side, and it just started to spiral. We don't want to take everybody, we only will take a hand-selected few people.
The demise of Grubb & Ellis provided you with an opportunity. Did you go after some of those brokers or did they approach you?
Michael Gottlieb, Marty Cottingham, the investment sales team—these are guys who could have gone anywhere they wanted in the marketplace. They're very highly sought-after professionals. Again, some of the things that they saw were the equity component, the culture the part of being one big team, the sort of holistic approach to client service. There are not many firms that you'd really want to check the box on if you were to go somewhere that offer the opportunities that our firm offers. We don't really have to poach people or solicit people, people come to us.
1 ramland road
,
1501 broadway
,
Arthur Mirante
,
avison
,
Avison Young
,
Earl Webb
,
greg kraut
,
jeff heller
,
karsten
,
kraut
,
Mark Rose
,
Martin Cottingham
,
Michael Gottlieb
,
Paramount Building
,
strauss