Condé Conundrum Brews in Lower Manhattan
---
---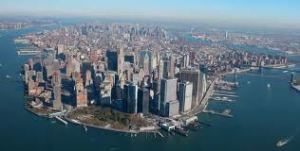 Condé Nast, the mega-publisher behind such magazines as Vogue, The New Yorker and Vanity Fair, holds several events per month at the Lambs Club on West 44th Street, two blocks from its 4 Times Square headquarters. It's also been known to hold events at Michael's on 55th Street, and a host of other venues.
Now, with the company having leased over 1.1 million square feet at 1 World Trade Center and saying goodbye to its old quarters, a new posh venue for its gatherings will have to be found, all of which has brokers asking the question: will high-end dining and retail come to Manhattan's southern tip?
Retailers are hungry for Manhattan retail space at the moment, but lower Manhattan luxury stores may take time, said Steve Rappaport, senior managing director with SINVIN Realty. For that to change, a high-end retailer may need to stake a claim early on and wait for value to grow, Mr. Rappaport said.
"Will it happen? Yes. When will it happen? That's difficult to determine," he said.
"Nobody's asking me for Downtown, they're asking me for Soho," said Faith Hope Consolo, chairwoman of the retail division of Douglas Elliman Real Estate.
One of the barriers standing between Downtown and a string of luxury boutiques could be low population, she said.
"But that could change."
Tropical Storm Sandy could cause retailers to think twice before setting up shop in lower Manhattan, said Pat Breslin, executive vice president of East Coast retail at Studley. That said, luxury retail returned to New Orleans following that city's brush with oblivion, he noted. The World Trade Center and the Brookfield and Westfield developments could draw luxury offerings.
"I know they've been speaking to every high-end retailer in the world," said Mr. Breslin.
Though Sandy exposed vulnerabilities in lower Manhattan, the hardest-hit areas were in the Financial East section, not so much Financial West—still rebuilding after 9/11—where Condé Nast will soon settle.
Lower Manhattan is on the rise, said Nicole LaRusso, senior vice president for planning and economic development with the Downtown Alliance—a research and advocacy group focused on lower Manhattan that will seek to attract retailers at this week's International Council of Shopping Centers conference in New York.
According to the alliance, the residential population in the area has grown from about 24,000 in 2000 to a projected 61,600-plus in 2013, and that population is packing a healthy supply of disposable income, even by New York standards—the average household income was about $188,000 in 2010.
4 Times Square
,
Brookfield
,
Brookfield Properties
,
Conde Nast
,
Danny Meyers
,
Douglas Elliman Real Estate
,
Ed Hogan
,
Faith Hope Consolo
,
Hermes
,
Lambs Club
,
Morton's
,
New Yorker
,
Nicole LaRusso
,
Pat Breslin
,
Sarar
,
SINVIN Realty
,
steve rappaport
,
Studley
,
The Conrad Hotel
,
Vanity Fair
,
Westfield