Barclays Center: From Eminent Domain to Deron Williams
---
---
"It was intended to be iconic," MaryAnne Gilmartin said of the Barclays Center's façade of undulating rusted steel just three months after the wildly controversial arena opened its doors.
But while the arena's architecture aimed to lodge itself in the public consciousness, the Atlantic Yards development project, of which Barclays is the preening firstborn child, couldn't have anticipated the discord it would ignite in the Brooklyn neighborhoods it promised to reactivate.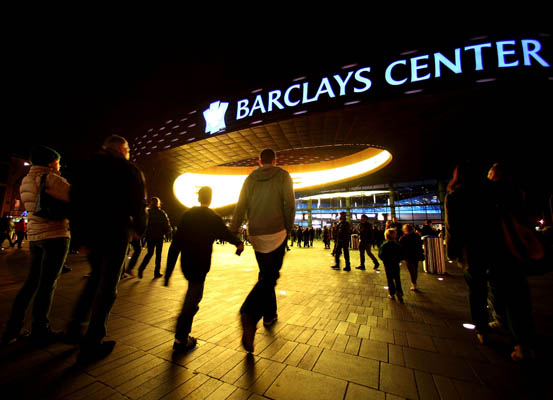 Ms. Gilmartin is the executive vice president of commercial and residential development at Forest City Ratner Companies. Bruce Ratner, the Forest City chief executive, became the public face of Atlantic Yards as the $4.9 billion, 22-acre project withstood withering scrutiny from its neighbors-to-be, starting with its proposal in 2003.
Barclays Center opened on September 28 with the first of eight sold-out performances by Brooklyn bard Jay-Z. Barbara Streisand, another Kings County native, followed Hova. So did the rechristened Brooklyn Nets. Musicians as schizophrenically diverse as Justin Bieber, Bob Dylan and Rush have played the 18,000-seat complex, making it a rival to Madison Square Garden for the city's pre-eminent stage.
Meanwhile, the development's opponents wonder how Bieber Fever and creaky nostalgia tours came to define Atlantic Yards. "It's an irrelevant distraction," Daniel Goldstein said of the marquee entertainment reeling fans and dollars into Downtown Brooklyn.
Mr. Goldstein is the Atlantic Yards opposition hero, the last tenant in the project zone to make way for the wrecking ball (when Forest City paid him $3 million in 2010).
"I think the arena opening hides the fact that the project was supposed to bring 10,000 permanent jobs and thousands of units of affordable housing," Mr. Goldstein said.
There's a sense, propagated by local media outlets, that Barclays Center has shifted the public perception of the project into the positive column, or that locals once fired up in their battle for Atlantic Avenue have succumbed to exhaustion. But Mr. Goldstein said Barclays patrons paying top dollar for event tickets are fairly bound to come away with a positive impression.
Ms. Gilmartin concedes that imperfections remain. "We'll always have areas we need to work on," she said, citing noise as an issue. Traffic has not been the disaster that many, including Forest City executives, feared. Relatively quotidian complaints about idling limos and public urination have replaced grand statements about the fight for a borough's soul.
"The fight ended years ago, when Ratner started building," Mr. Goldstein said. Looking ahead, the construction of office and apartment towers is less glossy than that of Brooklyn's new sports and entertainment nerve center. And while Atlantic Yards turned heads architecturally with the announcement that the world's tallest modular building would rise on the site, Mr. Goldstein noted that only nine of its units will be available for families earning less than the borough's median income.
Ms. Gilmartin, a New York lifer, takes civic responsibility seriously and appreciates the public discourse Atlantic Yards generated. "We've done a good job of being a good neighbor," she said. Forest City hasn't quite convinced Mr. Goldstein of that, although he did have advice for the company as it moves forward on the project.
"I live three blocks from Barclays Center, and during Sensation, this big rave, I could feel it," Mr. Goldstein said. "I'm not sure how they'll sell apartments right next to the arena if people think they'll be vibrating."