Avison Young Named Leasing Agent for Times Square's Paramount Building
---
---
Avison Young won a promising assignment yesterday when Paramount Leasehold L.P. selected it as the exclusive office leasing agent for 1501 Broadway in Times Square. It is the Canadian agency's first Manhattan leasing assignment since it opened a New York office in April.
The 33-story, 690,000-square-foot tower, also known as The Paramount Building, sits between 43rd and 44th Streets in the heart of Times Square. At street level the building currently houses retail tenants including Levi's and the restaurants Hard Rock Cafe, Bubba Gump Shrimp and Carmine's. "This building is a true New York City landmark and its location within the vibrant Times Square district provides tenants with excellent access to multiple modes of transportation, as well as proximity to first-rate hotels," said Arthur J. Mirante, II, principal and tri-state president of Avison Young.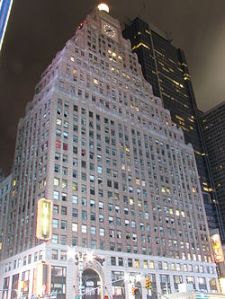 Paramount Leasehold has owned the Art Deco tower–a former movie palace and Paramount Pictures headquarters–for forty years. Inside the building are available office spaces ranging from a few hundred square feet to a 160,000-square foot block. The Paramount's open, column-free floor plans could attract companies from the thriving tech sphere as they migrate north from their traditional Silicon Alley corridor.
"This is a very unique, historic asset," Mr. Mirante said. "There's a contiguous block of space through floors eight, nine, 10, even 11. The eighth floor has 25-foot ceilings. You have to see it to believe it. It just cries out for a media-tech tenant. We don't have to have that, but Midtown South is getting tight."
Mr. Mirante said that Avison Young's conversations with Paramount about the building started roughly 90 days ago. Former office leasing agent Newmark Grubb Knight Frank will stay on as the retail leasing agent and property manager. The owner is planning a refurbishment to bring 1501 Broadway back to its early glory. "This building–I got so excited. It's a sleeping giant," Mr. Mirante said.
Avison is Canada's largest independent commercial real estate services company. When asked about the firm's future plans for New York, Mr. Mirante said he'd love to get an agreement in Hudson Yards. But for now, the Paramount Building takes center stage. "All of our office's specialists will focus on this. The one thing we're not going to do is fail on our first New York project."