Yeshiva University Lecture Hall Yields $15.5M Despite MTA Caveat
---
---
A former Yeshiva University lecture hall at 237-241 East 34th Street in Murray Hill has sold for $15.5 million, city records show.
A caveat in the potential for development at the site didn't stop a series of potential buyers from lining up for a competitive bid to buy the property, said Massey Knakal's John Ciraulo, who handled the sale along with Michael Azarian and Kobi Leifer.
Three developers courted the university, but a New York City-based firm with a long track record of building dormitory space ultimately prevailed, with plans to do the same at the Yeshiva site.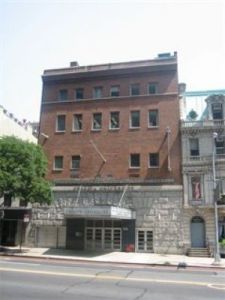 "At the end of the day, three developers, all will different ideas, came forward and we ended up having three contracts out there at the same (price) level," Mr. Ciraulo said.  "Yeshiva really wanted to get it done this year… the buyer signed the contract with a 10 percent deposit and signed 30 days after the contract" went out.
The 4-story, 17,875 square foot building between Second and Third Avenues currently holds a 359-seat lecture hall, with offices, storage and utility rooms on the upper floors and in the basement.
As for the caveat — the property lies at one of many intersections where the Metropolitan Transportation Authority plans to construct an entrance, or exit, to the Second Avenue Subway, which is under construction and has been in planning for three decades.
The MTA can take back parts of properties based on the subway's needs, along what Mr. Ciraulo referred to as "shaded areas" that can be seen in the MTA's construction plans.
"Anyone that is looking to build within that shaded area will have to get MTA approval," he said.  "The owner has to build knowing that at any time in the next 100 years the MTA could come back and take back part of the property."
But Mr. Ciraulo called it only "a slight bump" in gaining the buyer's comfort with the deal, since an MTA seizure often allows a property owner to add additional square footage elsewhere in the building.
While he declined to identify the buyer, Mr. Ciraulo noted that the developer anticipates the interest of multiple city schools in housing students at the dormitory once it is complete.  It was not yet determined whether the building would be torn down or built upon, he added.
The Second Avenue Subway will include a two-track line along Second Avenue, from 125th Street to the Financial District; and a connection from Second Avenue through the 63rd Street tunnel to existing tracks for service to West Midtown and Brooklyn.
The property is currently zoned for approximately 49,380 buildable square feet.
Yeshiva University was unavailable for comment.