Worldwide Plaza Confirms Recapitalization Plans
---
---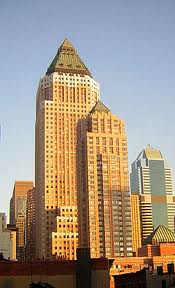 Worldwide Plaza will definitely look to recapitalize, following several months of lingering on the auction block. Sellers, George Comfort & Sons and RCG Longview, had purchased the building – located at 825 Eighth Avenue – in 2009 for just under $600 million.
"The truth of the matter is that they have decided on a recapitalization strategy," said Steve Solomon, a spokesperson for the landlord. Mr. Solomon said he could not provide specifics on the matter and declined to say whether the building has been taken off the market given the decision to recapitalize. "As part of the recapitalization strategy, refinancing is definitely being considered."
That the building has not been sold since being earmarked for sale is not for lack of bidders, but the size of the bids made.
"There were numerous offers—and certainly much larger than had been depicted in the media," Mr. Solomon said. He would not name any specific bidders, but said that offers for the nearly 2 million square foot office tower have been substantial.
"Apparently (the owners) didn't think they were substantial enough," he said.
George Comfort & Sons and RCG have hired Eastdil Secured to market the building to buyers, hoping to sell for a figure close to the price Harry Macklowe paid when he bought Worldwide Plaza in 2007 at $1.7 billion valuation, as part of a $7 billion portfolio deal, according to a previous report by The Commercial Observer. George Comfort & Sons bought the building from Deutsche Bank last year, after the lender took it from developer Macklowe when he defaulted on $7 billion in loans.
Because the property is near full, a buyer would acquire Worldwide Plaza for a fixed rate of return.
George Comfort attracted the Japanese financial company, Nomura, from its Lower Manhattan location into a roughly 800,000-square-foot office lease at the pyramid-capped tower in 2011. The company chose not to exercise rights to large portions of the space. Other tenants include WNET, which signed a 95,000-square-foot, 16 year lease in 2010.