Paul Massey on Massey Knakal's Growth
---
---
Paul Massey began his career at CBRE in 1984 but disembarked on his own within months after becoming disenchanted with the company's hierarchical atmosphere. Senior brokers there, he found, were unwilling to collaborate with or groom younger talent.
It was the start of what seemed like the career of someone bent on doing things his own way.
Four years later, Mr. Massey would launch the scrappy, eponymously named startup he founded with colleague Robert Knakal, overseeing just a handful of staff. The two developed a system of brokerage that no other firm had then employed, in which employees were assigned to specific territories in the city.
Many observers of the firm thought the plan would be a death knell, limiting its ability to recruit talent. After all, what top broker would want to be assigned to some obscure neighborhood in Queens or Staten Island?
The pair eschewed the real estate establishment in more glaring ways, too.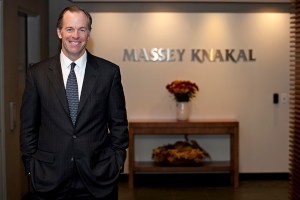 Offended, for instance, by the way guests talked over the speakers at the Real Estate Board of New York's annual banquet, a lack of etiquette most in the industry consider one of the dinner's beloved traditions, the pair walked out and didn't return for years.
The gala is considered the industry's Oscar night and its signature networking event.
It's now abundantly clear that Mr. Massey never got CBRE fully out of his head and that he never aimed to be a maverick so much as someone with the ambition to build a brokerage platform no less diversified or sophisticated on his own.
Over the past year or so, Messrs. Massey and Knakal's firm, Massey Knakal, has been transformed from a company that focused solely on small to midrange sales deals to one that now convincingly offers a suite of services, including retail and mortgage brokerage arms.
In recent months, it began raising millions of dollars to start an investment fund that will provide equity and bridge financing for real estate acquisitions in the city.
While Mr. Knakal has continued to focus on brokerage and has become one of the city's leading investment sales deal-makers, the company's quiet diversification has been masterminded by Mr. Massey.
"We're thrilled with how it's coming together," Mr. Massey told The Commercial Observer recently. "We realized there's a lot of synergy between these different service lines."
Smart, strategic ideas don't go unnoticed in a city as competitive as New York, and Mr. Massey's moves were quickly seen as savvy by rivals. Several of the firm's peers have since likewise moved into other services in order to broaden their business.
Eastern Consolidated, for instance, recently added retail brokerage staff.
The seeds of Massey Knakal's recent growth can be traced to the recession, when it was dealt a number of humbling setbacks. When the sales market in the city tanked in 2009, the company was forced to close its Brooklyn office and scrap plans to move into New Jersey.