Milan Meets Red Hook in $11.8M Brooklyn Acquisition
---
---
Milan developer and urban planner Alessandro Cajrati Crivelli plans to bring a touch of Venice to Red Hook, Brooklyn with the help of architecture firm Adjmi & Andreoli.
The man behind the development company Estate 4 has purchased a 130,000-square-foot factory space at 202 Coffey Street for $11.8 million, The Commercial Observer has learned, and he is tapping the New York-based architects to strip the building down to its original 19th-century brilliance, ultimately creating a photography school and a series of artist studios.
"As architects we are excited to touch such a beautiful building," said Aldo Andreoli, one half of the architecture team charged with restoring the 1889 building.
"We fell in love with the structure inside, which is reminiscent of the Palazzo Grassi in Venice," he added, referring to the 18th-century, classical style building that was turned into an art gallery in the 1980's.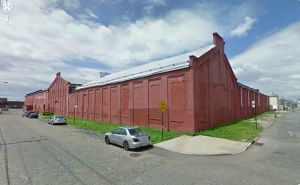 Mr. Crivelli is perhaps best known for the redevelopment of Zona Tortona in Milan and the renovation of the post office located in Howick Place in London.  His specialty has been transforming buildings on the outskirts of town into creative studios, making the Red Hook building a prime draw when Adjmi & Andreoli made him aware of the gem, Mr. Andreoli said.
Before creating five to six creative studios and a school of photography, the architects will unearth a central courtyard that was covered with concrete and steel in the 1950's; they will unseal original windows that have since been filled with concrete blocks; and a red paint job marking the exterior will be removed, exposing original brick and erasing the current barn-like vibe.
"We found some original pictures from the 1920's that we will use to restore the original look of the building," Mr. Andreoli said, adding that the interior brick walls and wood trusses supporting the pitched roofs, with ceiling heights that average 45 feet, will create the perfect backdrop for displaying artwork.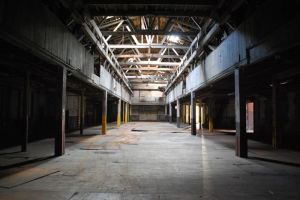 "You could build some sheetrock walls, say 20 feet high, to display artwork, which would also allow for people to see the beautiful wooden structure on top," he said.
The architecture firm is in the process of transforming a set of other buildings in the city.  Among them, the firm is converting 50 Varick Street into a U.S. outpost for London-based Spring Studios.
They are also reworking plans at the former New York Dock Company warehouse at 160 Imlay Street.  That property will become a 72-unit, mixed-use, condo loft building, featuring a market, restaurant and artist studios in addition to the residential space.
While Mr. Andreoli was unable to disclose names, he said the overwhelming interest from a range of artist groups has prompted the developer and architects to consider creating a sixth studio at 202 Coffey Street instead of the original five that were planned.  The final floor plan is yet to be determined.
Mr. Andreoli expects the building to be complete by mid-2014.