Empire State Building Tenant Roster Cut to Third of Size Since 2006: Malkin
---
---
The Empire State Building is becoming a more exclusive address.
The tenant roster in the iconic 81-year-old skyscraper has been cut to 171 companies from more than 600 in 2006, before Malkin Holdings took over supervision of the property. The average rent has increased to $42.10 a square foot from about $26. The building, which is among the few notable commercial assets in Murray Hill, is approximately 20 percent vacant, partly because Malkin is keeping space off the market as it looks to assemble offices suited to larger users.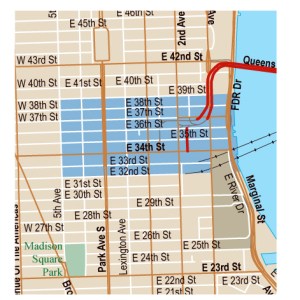 The building sits at the western edge of the Murray Hill submarket, an area that has benefited as technology and new-media demand spreads from Midtown South. That's helped keep vacancies in Murray Hill at 4.5 percent. Average rents for the submarket as a whole are slightly higher than at the Empire State Building, at $45.22, Cushman & Wakefield's third-quarter figures show.
The presence of LinkedIn Corp., a tenant since 2011 that last week added over 10,000 square feet to an already considerable 32,000-square-foot office, has attracted attention from other tech and new-media firms. But Malkin isn't interested in leasing space to startups. Having upgraded systems to meet demand for energy efficiency and worked to create a corporate campus-like environment, the company is looking to fill the building with companies that have outgrown the loft-like spaces of Midtown South—and have established a financial track record.
"Cash flow, come talk to us," said Anthony Malkin, president of Malkin Holdings. "As companies grow up and mature, they look for better offices. We're looking for the companies that have grown up and matured."
The building offers "among the most energy-efficient spaces in New York City," Mr. Malkin said. Available spaces range from 3,500 square feet to multiple floors.
Malkin Holdings announced in June that LinkedIn, which operates the largest professional network on the internet, is expanding its offices in the building by a third, adding 10,400 square feet on the 24th floor to its existing 32,000 square feet on the 25th floor. The new space is slated for occupancy in early 2013. LinkedIn leased the entire 25th floor in 2011.
In other deals this year, Coty Inc., the beauty products company, expanded for a second time, leasing an additional 120,000 square feet to increase its total occupancy to nearly 320,000 square feet. Kaltex North America, a subsidiary of Mexican textiles giant Grupo Kaltex, expanded its space sevenfold to 41,879 square feet. Freeh Group International Solutions, LLC, the firm headed by Louis J. Freeh, former director of the FBI, leased a high-end pre-built suite of 5,412 square feet.
The tower is in the midst of a $550 million modernization, including restoration of the Art Deco lobby and ceiling, new elevators, improvements to the mechanical and electrical and security systems and LED exterior lighting. Plans for next year include opening a "white tablecloth" restaurant on the ground floor, as well as tenant-only fitness and conference centers on the concourse level and the 65th floor, respectively, Mr. Malkin said.
"The Empire State Building really is a small neighborhood of its own," Mr. Malkin said. "You never have to leave the building."
Anthony Malkin
,
Coty
,
Cushman & Wakefield
,
Empire State Building
,
FBI
,
Freeh Group International Solutions
,
Kaltex North America
,
LinkedIn
,
LinkedIn Corp.
,
Louis J. Freeh
,
malkin holdings