Codecademy Opens its First Office at 49 West 27th Street
---
---
Codecademy, an online educational platform that offers free coding classes and counts Mayor Michael Bloomberg among its subscribers, is opening its first office on the entire fourth floor of 49 West 27th Street, between Avenue of the Americas and Broadway. The company inked a five-year lease for 8,700 square feet in the building at a rent in the high $30s per square foot.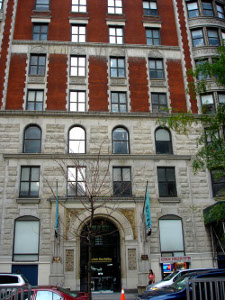 Founded in 2011 by then-Columbia University students Zach Sims and Ryan Bubinski, the company offers an online interactive platform teaching subscribers programming classes like Python and Javascript and markup languages including HTML and CSS.
About 200,000 users subscribed to the website within the first three days of its launch. The company raised $2.5 million in November 2011 and another $10 million this past June. In January, a major boost arrived from Mayor Bloomberg who tweeted that he had become a Codecademy student, as a new year's resolution.
Before leasing the new space, the startup was based in AOL's office at 670 Broadway, where Mr. Sims used to be an intern. "Now they are expanding, they are going to hire a lot of people," said Bernard Weitzman, senior managing director of Newmark Grubb Knight Frank who represented the tenant.
"We looked at a lot of places, we even considered Downtown," Mr. Weitzman said.
The choice of 49 West 27th Street was partially motivated by financial considerations. In a location "just slightly north of the epicenter of Midtown South," the office is "less expensive" than others located farther south and overall an "economic deal," said the broker.
Among the most interesting features of the new spaces are exposed bricks, wooden floors and archways.
apirolo@observer.com
49 West 27th Street
,
670 Broadway
,
AOL
,
Bernard Weitzman
,
Codecademy
,
CSS
,
HTML
,
Javascript
,
Michael Bloomberg
,
Newmark Knight Frank
,
Python
,
Ryan Bubinski
,
Zach Sims