Bushwick, Brooklyn's 260 Meserole Street: The Next Electric Circus?
---
---
Halstead Property is exclusively marketing 260 Meserole Street in Bushwick, Brooklyn, which is attracting music and beer lovers from throughout the borough; and at least one broker is dubbing it the "Electric Circus of Bushwick."
The 19th century warehouse has been transformed into the largest community for musicians in New York City, also featuring its largest beer hall, brokers at Halstead said.
The 72,000-square-foot, 5-story  redbrick building, built in 1858, is home to The Well, a 15,000-square-foot brewery; The Wick, an 8,000-square-foot performance space; Bushwick Supply, which sells music supplies; vacant spaces to be filled by a pizzeria and possibly a hostel or boutique hotel; and a number of music studios by Danbro Studios.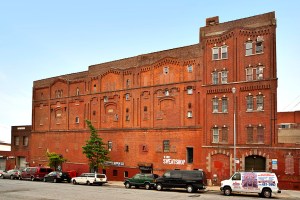 "This building epitomizes the new spirit of the new Brooklyn," said John Goldman, managing director of Halstead Commercial Division, who has four decades of real estate experience.  "New, exciting and hip places have often been signified by a single building."
Goldman said 260 Meserole is on the verge of becoming something akin to The Electric Circus, the East Village nightclub and discotheque located at 19-25 St. Marks Place in the late 60's to early 70's; or perhaps neighboring Williamsburg, Brooklyn's Knitting Factory.
The owner, Danenberg Brothers, purchased the property in March 2007 for $2.65 million and is asking $20 million after a comprehensive renovation project that bolstered the property's infrastructure, created state-of-the-art, soundproof rehearsal spaces, fixed a tattered roof, and will soon include a new elevator shaft, said Halstead's Eric Karmitz, who is the exclusive sales broker for the property along with Mr. Goldman and Tito Ghose.
"The building is one block off the L train, with great restaurants and plenty of action and foot traffic throughout the day," Mr. Karmitz said.
Grammy-nominated rapper Cam'ron recently put a performance on at The Well, drawing upwards of 900 people; and concerts put on by area DJs have attracted hundreds as well, Mr. Karmitz said.  A video by rapper 50 Cent and scenes from HBO's Boardwalk Empire were also shot inside the building, he added.
"The space is still very raw, but you're able to throw a good concert there," Mr. Karmitz said.
50 cent
,
boardwalk empire
,
buschwick supply
,
cam'ron
,
danbro studios
,
danenberg brothers
,
eric karmitz
,
Halstead Properties
,
Knitting Factory
,
the electric circus
,
the wick
,
tito ghose