A Classic Time Watch Renews at 10 West 33rd Street
---
---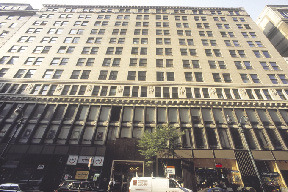 A Classic Time Watch Company, Inc. has inked a renewal deal for its office.
The watch company, which specializes in importing, wholesaling, and manufacturing, will continue to operate out of a 14,295-square-foot space on the eighth floor of 10 West 33rd Street. The company's 10-year lease was nearing expiration and officials signed on to stay on for another 10.
The office houses several aspects of the business, including general and executive offices, showroom, and a packing and shipping center.
"Ten West 33rd St. continues to be a priority building for fashion accessories companies with a loyal tenant base," said David Levy, a principal at Adams & Co. "We are happy to see A Classic Time Watch Company renew their lease and look forward to their continued success and tenancy."
Mr. Levy is the exclusive broker for the building and represented both the tenant and landlord, Ten West Thirty Third Associates, in the transaction. General asking rents in the building are around $42 per square foot but $39 per square foot was requested in the deal.
"The building is one hundred percent leased," added Mr. levy. "There's even a waiting list for people to get in the building. There has been a flow of people in and out of the building, but we were fully occupied at the end of summer."
In addition to A Classic Time Watching Company, several notable companies are housed in the building such as Barganza, Global Design Concepts, and Rosetti Handbags as well as retail clients Legends Bar & Grill, Jim Hanley's Universe, and the United States Post Office.