<i>Daily News</i>'s 4 New York Plaza Offices Could Be Uninhabitable for a Year
---
---
It could be up to a year before the New York Daily News and U.S. News & World Report are allowed back into their 4 New York Plaza headquarters, which were "wiped out" by Hurricane Sandy, Mortimer B. Zuckerman said today.
Like many companies in Lower Manhattan, both publications were forced to relocate after 11-foot tidal surges caused flooding and electrical outages in the area.
"We have just leased some other space for nine months to a year just to make sure that we can keep the magazine and the newspaper going," the chairman of Boston Properties said at the Observer Media Group's Masters of Real Estate conference. "We suffered dramatically on the publishing side because the U.S. News and the Daily News offices were at the southernmost part of Manhattan and their offices were just destroyed."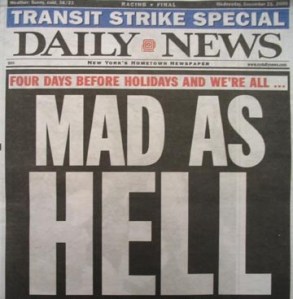 The Daily News admission was one of many during an all-day series of panels that included thoughts on this week's presidential elections and detailed explanations of how real estate professionals have used their resources to help victims of Superstorm Sandy. Richard LeFrak, in particular, said he was able to relocate as many as 150 ground-floor tenants hit hardest by the storm.
Mr. Zuckerman, who is publisher and owner of the Daily News and editor-in-chief of U.S. News, said that in addition to the devastation at 4 New York Plaza, which the publications moved into last summer, the companies' Jersey City printing facilities flooded and lost power as a result of Sandy.
But what was "in one sense a terrible experience was in the other sense a wonderful experience," he added, expressing gratitude for a group of unnamed businesses that offered a helping hand to get the two publications back on their feet—and the Jersey City plant up and running at full capacity, as of yesterday.
"There was just a tremendous feeling of community—everybody was helping everybody else," he said.
A law firm "moved their offices around" and "loaned" the paper temporary office space to house members of the publications' sales force, said Mr. Zuckerman, while The New York Times, Newsday, the Star-Ledger, The Bergen Record and The Hartford Courant offered up their printing presses when the Jersey City plant went out of commission.
"We weren't able to do 700,000 papers, but we able to do 250,000—not of the same quality, but we got them out," he said.
A Daily News spokesperson confirmed the law firm as Proskauer Rose, which is the anchor tenant of 11 Times Square, adding that the The Jewish Week also housed some Daily News employees.
The spokesperson said that a majority of the paper's Manhattan employees are now working at the Jersey City plant, with a portion of its reporters also in its Bronx, Brooklyn and Queens bureaus.