WilmerHale's Interior at 7WTC Golden
---
---
After moving in to 210,000 square feet in the building earlier this year, law firm WilmerHale's build-out at 7 World Trade Center has been awarded LEED Gold Certification from the U.S. Green Building Council.
A spokesperson for the firm told The Commercial Observer that the certification comes on the heels of a long process—one that involved submitting the origin of materials and other specific bits of information about the space.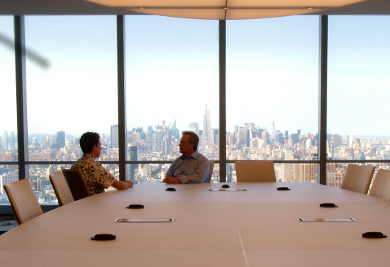 The recent designation is based upon the condition of WilmerHales's space when the law firm moved there in mid-July. It is in the category of Commercial Interiors, meant for tenants "who lease or do not occupy their entire building but want to pursue LEED certification for their interior," according to the U.S. Green Building Council Web site.
In this case, though, the building itself was golden already. 7 World Trade Center was certified LEED Gold in 2006.
"This is an important recognition that was achieved through our continued efforts on two very meaningful fronts—environmental sustainability and cost efficiency," said Charles Platt, the partner-in-charge of the New York office. "We are proud to offer an impressive, modern and efficient space for our employees and clients."
Some of the factors involved in the certification include optimized energy performance of lighting, HVAC, equipment and appliances; reduced water usage; increased ventilation; and increased proximity to public transportation.
USGBC's president, CEO and founding chair Rick Fedrizzi—who spoke when the building itself was certified LEED Gold—said that the certification of WilmerHale's interiors as LEED Gold was a sign of the law firm's green building leadership.
"The urgency of USGBC's mission has challenged the industry to move faster and reach further than ever before," Mr. Fedrizzi said, "and WilmerHale serves as a prime example of just how much we can accomplish."
cgaines@observer.com