Rapidly Expanding Accounting Firms Hungry For New Office Space
---
---
In August, Deloitte's global headquarters relocated to a new 430,000-square-foot office at 30 Rockefeller Plaza, for which the company had inked an 18-year lease in early 2011. Over the past year, Deloitte expanded to 193,000 professionals globally, with more than 51,400 new hires. In New York, its workforce shot up seven percent to nearly 5,400 professionals, according to officials at the global professional services firm.
"It was a real estate strategy in place to ensure our office space throughout the tristate [area] provides a work environment that enables productive collaboration of our professionals, maximizes space efficiencies and is economically beneficial," said Henry Phillips, a vice chairman and northeast regional managing partner with Deloitte.
In 2012, Deloitte was one among many of New York's top 25 accounting firms to embark on a hiring spree that would subsequently trigger a massive hunt for expansion space, analysts told The Commercial Observer. In the past few months, several accounting firms closed deals for new offices in Manhattan.
"We had outgrown the previous space," said Barry Garfield, the managing partner of Holtz Rubenstein Reminick LLP, which by Nov. 1, is expected to have completed its move to a new 29,271-square-foot office at One Penn Plaza from the current 14,360 square-foot office at 1430 Broadway. "Now there is space for future growth," Mr. Garfield said.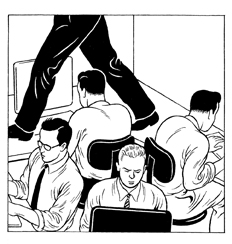 Between 2010 and 2020, the accounting industry is expected to increase its labor pool by 16 percent due to a heightened demand for financial consulting and auditing in the wake of economic crises across the world and newly instated I.R.S. codes and regulations, according to data from the Bureau of Labor Statistics.
The rapidly growing number of I.R.S. regulations on the book, combined with the larger need for experts in international taxation, benefitted executives at Frank Hirth, which is expected to grow from 38 people to approximately 60 over the next several years. Kevin Johnson, a director of the firm's New York branch, said that after an Oct. 15 filing deadline, the firm will finalize its move to a 13,910-square-foot office in Wall Street Plaza, at 88 Pine Street, from a 6,125-square-foot space at One Penn Plaza.
Friedman LLP, which boasts approximately 310 professionals nationwide and about 180 in New York, has adopted different strategies to face its own growth. "We have refurbished our space and we have renewed our lease at 1700 Broadway for another ten years," said Michael Gaines, Friedman LLP's human resources and administrative partner. The firm has had its Manhattan base in the 39,000 square-foot office for more than 30 years.
"We added offices, but mostly it's just to create an environment more in line with today's needs," said Mr. Gaines.
The firm expanded its square footage outside of New York, too. One of its four New Jersey branches is due to relocate in December from its current 10,000-square-foot office to a newly leased 14,000-square-foot office at 301 Lippincott Drive, in Marlton, N.J. Mr. Gaines explained the move with one simple word: "growth."
But an expanding workforce doesn't always translate to more square footage. Recently, PwC inked a 15-year lease for a new office at 601 South Figueroa Street in Los Angeles. Against the trend, the new 135,000-square-foot office will be smaller than the current 160,000-square-foot office at 350 South Grand Avenue.
"Over the past two years, PwC Los Angeles has grown our workforce more than 30 percent, adding approximately 350 new jobs," said Brian Cullinan, managing partner for PwC's Southern California market, who added that the reduction in square footage is the result of more efficient space.
301 Lippincott Drive
,
601 South Figueroa Street
,
88 Pine Street
,
Barry Garfield
,
Bureau of Labor Statistics
,
Deloitte
,
Friedman LLP
,
Holtz Rubenstein Reminick LLP
,
Kevin Johnson
,
Michael Gaines
,
One Penn Plaza
,
PwC