Microsoft the Latest Big Tech Company to Come to Midtown South
---
---
After making plans to swap locations in Midtown, Microsoft (MSFT) is now in talks to take another space in Midtown South, an area of the city that has become a magnet for software and technology companies.
The company, which is close to releasing the latest version of its operating system Windows 8 and a new tablet computer that will compete with the iPad, is nearing a roughly 22,000-square-foot deal for the entire seventh floor of 641 Avenue of the Americas.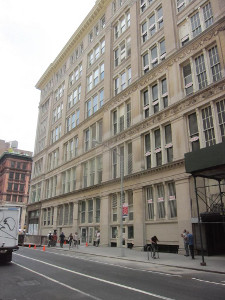 The company will take over space that had previously been occupied by the social media software firm Meebo, which leased the space last year but was acquired over the summer by the Internet search and software giant Google and subsequently relocated into Google's offices on Eighth Avenue in Chelsea.
It was not immediately clear what Microsoft plans to house in the new location. The company currently has its New York headquarters in 250,000 square feet at 1290 Avenue of the Americas. According to several sources, Microsoft is in the midst of negotiating an over 400,000-square-foot lease to move that space to 11 Times Square, a recently constructed office tower on the corner of 42nd Street and Eighth Avenue.
The move into a brand new skyscraper and now the city's hottest tech center give the impression of a company making bold real estate decisions to help overhaul its staid culture and image.
The tech sector has clearly ordained Midtown South and its decidedly non-corporate aesthetic its neighborhood of choice, with big names like Google, Tumblr and Yelp taking space there in recent years. The area's popularity has prompted even larger tech companies that have graduated into the buttoned-down environs of Midtown to shop the neighborhood for ancillary offices. Facebook for instance leased a large space at the Midtown building 335 Madison Avenue but has been rumored to be perusing Midtown South for another location.
The real estate investment trust SL Green just acquired 641 Avenue of the Americas and a neighboring office property 635 Avenue of the Americas for $173 million according to written reports. Sources say the new landlord cancelled Meebo's deal in order to arrange a transaction directly with Microsoft.
Sources at SL Green couldn't be immediately reached for comment. A leasing team from CBRE led by Ken Rapp, a leasing executive at the company, had marketed the Meebo space on behalf of Google before the deal with Microsoft was arranged. Mr. Rapp also could not be reached. A spokeswoman for Microsoft did not immediately respond to a request for comment. Lisa Kiell, a leasing broker at Jones Lang LaSalle who represents Microsoft, did not return a call seeking comment.