MBANY Event: It's Good to Be Tall, New York!
---
---
New York City's tallest buildings took center stage Monday night at a Mortgage Bankers Association of New York event, moderated by Joshua Stein, a Mortgage Observer columnist and principal of Joshua Stein PLLC.
Mr. Stein introduced guest speaker Stacy Wallach, who took attendees through a fascinating look at New York City skyscrapers, "An Evening with the Tallest of the Tall."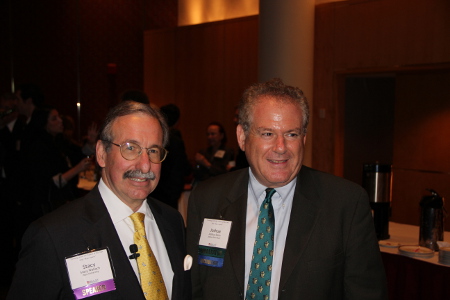 So it might seem difficult to bring anything new to a discussion of the city's skyscrapers, but Mr. Wallach—an adjunct professor at Pace Law School, who also teaches American history at Berkshire Community College—did just that.
Interspersed with the buildings, which as any jaded New Yorker can admit are full of drama themselves, were tidbits about some of the characters that made them all possible. And some of the news wasn't actually good for the forbearers of those mortgage brokers assembled.
"Time to weep in your beers," Mr. Wallach told them when detailing the history of the "Cathedral to Commerce" at 233 Broadway—constructed by F.W. Woolworth for $13.5 million in cash. That particular building held the title of New York City's tallest from 1913 to 1930 when mortgage brokerage was still in its infancy. Some lucky New Yorkers or foreign investors will call the upper floors home, when they're developed into condos by 2015.
Equally depressing for commercial mortgage brokers was, well, the Great Depression. When it hit in the 1930s, J.D. Rockefeller funded the bulk of Rockefeller Center's $125 million construction costs with his own cash. The rich are different!
Mr. Wallach's talk was great fun, and also educational, hitting on the "game changers" that made New York City skyscrapers possible in the first place. Among them the Bauhaus group's international style, CAD and Green Building—for which Mr. Wallach tipped his hat to William Rudin, an early proponent.
Though we were partial to rebar.
cgaines@observer.com