First Sale in Soon-To-Be-Rezoned Hudson Square Closes
---
---
One of the first sales in an area of Hudson Square that could soon be rezoned has closed.
100 Vandam Street, a 40,000-square-foot office building in Hudson Square, a building near the corner of Vandam Street and Greenwich Street, has been acquired for nearly $30 million, the building's sales broker announced.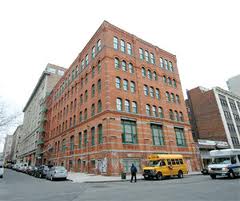 The property sits in a roughly 50-acre area that the City Planning Commission is currently in the process of potentially rezoning, a change that could allow lucrative residential development. In August, the Planning Commission certified the plan, meaning that it will now go through a months-long public review process.
James Nelson, a top executive at the sales brokerage and services company Massey Knakal, arranged the deal for 100 Vandam Street with colleague Robert Burton on behalf of Beck Street Capital, the seller in the transaction.
Mr. Nelson said he could not disclose the buyer and city records, as of Monday afternoon, had not yet recorded the deal, a filing that usually discloses the name of the buyer or the entity that was used to make the acquisition.
"It's a New York City buyer but someone who doesn't own any other assets here," Mr. Nelson said.
The purchase price in the deal was $27.5 million and was paid all-cash Mr. Nelson said. The building has one tenant, an advertising and media firm firm called RDA International that leases about 13,000 square feet in the property, he said. The building is otherwise vacant and Mr. Nelson said it has enough air rights to develop up to nearly 60,000 square feet of residential on the site, either by converting the current building and adding space above or by razing the structure and redeveloping the site.
Mr. Nelson said the purchase price reflected the new potential of the neighborhood now that the rezoning is in process.
"The sales price amounts to a roughly 3.75 cap rate, which is a very full price," Mr. Nelson said. "I think that the buyer feels very comfortable this is going to happen and so I would like to think we got a full price in the deal."