Talk About Windows! Microsoft Poised to Sign 400,000-Square-Foot Lease at 11 Times Square
---
---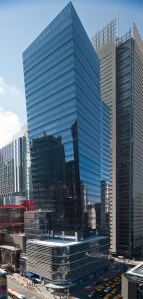 Steven J. Pozycki has reeled in his white whale as one of the most sought after tenants in the entire city has landed at one of its most troubled office towers. According to numerous sources, Microsoft is poised to sign a long-term lease for 400,000 square feet at 11 Times Square, the office tower Mr. Pozycki's New Jersey-based SJP Properties built just as the real estate bubble was bursting.
For months, the Seattle-based software company has been looking at new offices in New York as it mulled whether or not to leave its current home at 1290 Avenue of the Americas. Microsoft had been looking at space across Manhattan, but it seemed to have a special affinity for the West Side, having strongly considered Mort Zuckerman's swiftly rising 250 West 55th Street. For a time, Microsoft appeared interested in 11 Times Square but its focus faded in favor of other opportunities, until a last minute pitch by SJP brought the building back into the running and helped seal the deal.
"They could have gotten a better deal elsewhere in the city, but they had just fallen in love with that space," according to one industry source. Microsoft was said to be looking at 51 Astor Place among other early stage options. The move represents a considerable upgrade from Microsoft's current lease at 1290 A of A, where it had roughly 100,000 square feet of space according to Co-Star.
A team from Jones Lang LaSalle led by executive Mitch Konsker was behind the push to bring the company into SJP's property.
SJP declined to comment and Microsoft did not immediately return requests for comment.
The lease at 11 Times Square, supposedly for 15 years, is a coup for SJP, which has been struggling to fill its shiny geometric tower across from the Port Authority Bus Terminal ever since it built the 40-story skyscraper on spec at the height of the last real estate boom. The tower was just coming online as Lehman Brothers collapsed, and it took two years for a major tenant to move in, when Law firm Proskaur Rose took 400,000 square feet in the middle of the building. It was not immediately clear whether Microsoft would be moving in above or below the lawyers.
Now, more than 80 percent of the 1 million-square-foot building is spoken for, the latest good news in a project that had been a perennial underdog. The project was largely taken over by its senior lender, Prudential Real Estate Investors, as SJP struggled to make payments on its largely empty edifice. Earlier this year, the retail, which had also sat vacant for years, landed a 25,000-square-foot lease from Global Food International, a Russian restaurant outfit. At one point, an aquarium had considered taking the space—perfect for a white whale.