Strategic Hotels & Resorts Closes on Essex House Hotel Purchase
---
---
Chicago-based luxury hotel group Strategic Hotels & Resorts has closed on its $362.3 million re-acquisition of the JW Marriott Essex House Hotel, it was announced this afternoon.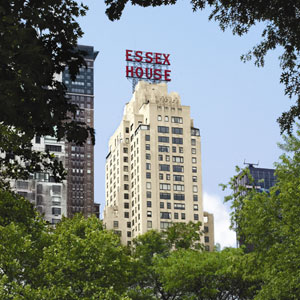 Strategic Hotels teamed up with an affiliate of KSL Capital Partners, a private equity firm, to help finance a part of the purchase. Strategic Hotels, lead by hospitality veteran Laurence Geller, will receive a 51.0 percent ownership stake in the Essex House Hotel and will serve as the managing member and asset manager of the property.
The final purchase price equals $685,000 per unit for the 518-key hotel.
DIG EH Hotel LLC (Dubai Investment Group), the seller of the Essex House Hotel, was advised by a Morrison & Foerster team of Mark Edelstein, Jeffrey Temple, Keith Print, and James Pincow.
The KSL Capital Parnters-Strategic Hotels partnership also secured a $190 million first mortgage financing from Bank of America "to fund the balance of the purchase price," according to a press release announcing the deal's closing.
The 3-year loan, which comes with the option of two one-year extensions, will "bear interest at LIBOR plus 400 basis points, with a LIBOR floor of 75 basis points," according to an earlier press release.
The 81-year-old hotel on Central Park South will also undergo a capital improvement program valued at $18.3 million to help distinguish it "under the JW Marriot flag."
The hotel was unbranded before the acquisition, said a spokeswoman for Strategic Hotels.
In closing the hotel, Strategic Hotels signed a 50-year management deal with Marriott International to rebrand the hotel as JW Marriott Essex House Hotel. In its agreement with Strategic Hotels, Marriott guaranteed a net operating income of $21.5 million a year for 8 years.
DIG EH Hotel LLC, or the "Dubai Investment Group," purchased the Essex House Hotel from an affiliate of Strategic Hotels in 2005 for $440 million. 
Mr. Geller was not immediately available for comment. A spokesman for Morrison did not immediately respond to a request for comment.
More on this story as it develops.