Ritzy Virginia Resort Becoming More So, Thanks to Financing Arranged by Cushman & Wakefield
---
---
The Homestead, a luxury resort nestled on 3,000 acres in western Virginia, is about up its luxury quotient thanks to a $30 million loan from a southern bank.
A team from Cushman & Wakefield arranged the financing for the KSL Capital Partners-owned resort via BB&T. KSL Capital Partners manages nine resorts through its KSL Resorts affiliate. Some of them, like the Homestead, are owned by funds that KSL Capital Partners manages.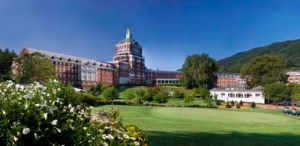 "We were excited to be able to support KSL in their financing efforts," said Jared Kelso, a managing director in C&W's Global Hospitality Group, part of C&W's Capital Markets service line. "The Homestead has accommodated generations of guests and is well positioned for continued success under the stewardship of KSL."
The resort is currently undergoing $25 million in renovations designed to boost its already substantial list of amenities. The National Historic Landmark includes championship golf courses, a spa and natural hot springs, an equestrian center, a 45-acre ski resort and a shooting club.
In a grim coincidence, the Richmond Times-Dispatch reports that human remains were found in woods near one of the resorts golf courses a little over a week ago. They're thought to be those of Beacher Hackney, a Homestead employee charged with killing two co-workers there in March 2009. He hasn't been seen since.
The Homestead is located at 7698 Sam Snead Highway in Hot Springs, V.A.
An email sent to KSL seeking comment about the financing and the planned upgrades wasn't returned in time for publication.
cgaines@observer.com