Grantland: Will Nonagenarian Eugene Grant Sell 550 Washington Street?
---
---
Every real estate investor dreams of the moment when, through diligence, smarts or luck, he or she finds a building whose potential is at once dazzling and wholly unrealized. Such discoveries can lead to deals that make fortunes, even careers.
It is not a surprise, then, that a steady procession has taken place over the years to a slumbering behemoth located in a onetime hinterland that has recently resurfaced as a new frontier for development. 550 Washington Street, a building more commonly known in real estate circles as the St. John's Terminal Building, is the archetype of a diamond in the rough.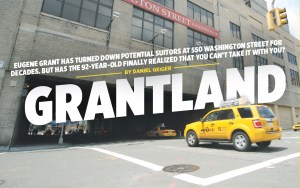 Sprawling more than three city blocks, the property, with its 1.3 million square feet spread between only four levels, has the notable distinction of having Manhattan's largest floors, the kind of cavernous open space coveted in modern office layouts.
"It's like you took the Empire State Building and laid it down on its side," said one top investment sales broker in the city.
Even before the nearby commercial office neighborhood known as Hudson Square blossomed into a popular destination for tenants or a pocket of blocks just east of 550 Washington Street was recently rezoned to allow residential development, owners and developers have for years quietly come to the building in the hopes of trying their hand at unlocking its tantalizing possibility.
"Everybody has looked at it," said one prominent owner who has invested in buildings in the neighborhood.
"There are literally 25 iterations of what this building could be—it's a blank canvas," a person with direct knowledge of the property said, describing a dizzying array of development possibilities that included everything from new office space to hotel, residential and retail development or a combination of all of the above.
Once a terminal where goods could be carted to and from Manhattan's waterfront by rail, 550 Washington Street was converted for use as an office building decades ago and has been owned since the 1960s by a man named Eugene Grant. Those who have looked at the property insist that Mr. Grant, who is now in his 90s, fully grasps the property's potential and has cultivated its legend. He welcomes, even encourages, suitors and has engaged many in negotiations.
Though Mr. Grant enjoys a sterling reputation in the real estate business as a gentleman and one of the last living members of an often-revered generation that included icons like Harry Helmsley, those who have dealt with Mr. Grant in such talks have come away feeling led along. Discussions on 550 Washington Street, these people say, follow a formulaic path that inevitably ends with Mr. Grant politely retreating.
"It's the perpetual Gene Grant dance," one investment sales broker who knows Mr. Grant said.
The Commercial Observer spoke with more than a dozen sources who either know or have worked with Mr. Grant, but in spite of his intractability on the property, none wanted to openly criticize him, for fear of offending him, and Mr. Grant himself declined to comment for this story.