Chadbourne Announces 200K s/f Deal
---
---
Chadbourne & Parke has signed a 20-year, 200,000-square-foot lease at 1301 Avenue of the Americas, space into which the firm will relocate its Manhattan headquarters from nearby Rockefeller Center, the company announced.
In a statement, the law firm said it would begin the move immediately but that the full transition would take time in order to allow it to outfit parts of the space with a new office installation, which it said will be designed by Gensler, a leading interior design architect.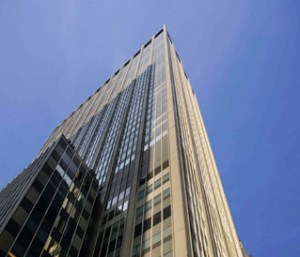 "We intend to design and build an office for the future, leveraging some of the key drivers for our clients and our lawyers, efficiency, flexibility and technology," Andrew Giaccia, a managing partner at the firm, said in a statement.
The firm did not disclose many terms of the lease, including what rents it agreed to pay, but said that the long term deal factored in two renewal options in year 10 and 15. Chadbourne also stated it secured expansion rights that will allow it the leeway to grow at the 1.8 million-square-foot property.
"The deal allows us to take substantial space under attractive terms," Mr. Giaccia said.
Chadbourne had been searching the Manhattan market for space for months. It has had its headquarters at 30 Rockefeller Plaza for years but received a not-so-subtle pink slip at the property over a year ago when that building's landlord Tishman Speyer signed a large deal with the accounting firm Deloitte that would bump Chadbourne from the building once its lease expires there – which is set to soon happen.
The firm took a careful look at several locations in the city, coming close to deals at One World Trade Center and 230 Park Avenue in past months. Complicating Chadbourne's search was its preference for space where it could inherit existing office infrastructure, reducing the capital expenses it would have to shell out to pay the cost of installing a new build-out for its occupancy.
1301 Avenue the Americas proved to be an ideal location. Earlier this year the large law firm Dewey & Laboeuf, a major tenant at 1301 Avenue the Americas, went bankrupt, casting ready-to-occupy law firm space onto the market. The Commercial Observer first reported in July that Chadbourne was seizing on the opportunity.
Moshe Sukenik, Chris Mongeluzo and Brian Cohen, executives at Newmark Grubb Knight Frank, represented Chadbourne & Parke in the lease. Ted Koltis and Heather Kahn, in-house leasing executives at the Paramount Group, led a company team that handled the deal for ownership.