CBRE's Mark Ravesloot: The Renaissance Man With the Gift of Gab
---
---
Commercial leasing brokers often earn a reputation for being proficient in a particular neighborhood, whether it be Midtown, Downtown or one of the more popular office destinations outside Manhattan, such as the New Jersey waterfront.
"It's definitely a more specialized business these days," said Mark Ravesloot, a leasing broker at CBRE.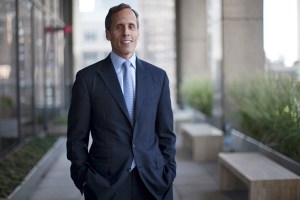 Even in a city where top brokers are often prolific and versatile, Mr. Ravesloot's career is distinguished by the apparent ease with which he has done sizeable deals across Manhattan and its ancillary submarkets.
Earlier this year, he and the leasing team he heads at CBRE filled 100 William Street in Lower Manhattan in an impressive streak of deals, including a 22,000-square-foot transaction over the summer with the Motor Vehicle Accident Indemnification Corporation to absorb the remaining vacancy there. In the spring he brought Tower Insurance into an 80,000-square-foot space in Harborside Financial Center in Jersey City. Late last year, he helped handle a deal to bring ION Trading, a financial firm, into about 60,000 square feet at 1345 Avenue of the Americas.
The leases may not be the biggest of the year—though Mr. Ravesloot has struck his share of jumbo-sized deals—but when you add them all up, Mr. Ravesloot is consistently a top dealmaker worthy of CBRE's highest brokerage title and distinction of production: vice chairman.
"I am a little more client-centric than market-centric, so I go wherever my clients take me," Mr. Ravesloot said. "Downtown, in general, is not as easy to get familiar with as Midtown, and the rents are lower, and so the fees are lower. It's the same thing with Jersey City. A lot of brokers would rather concentrate on Midtown. But these are just areas I have developed a comfort level with, and saw the importance of working in, to diversify my business."